C.L.U.E. or (Comprehensive Loss Underwriting Exchange) is identified as a claims history database operated by consumer reporting agency LexisNexis which makes it possible for insurance agencies to view consumer claims information when they are rating or underwriting a homeowners insurance policy.
What Is a Clue Report?
A C.L.U.E. report supplies your homeowners insurance agency with a history of your property insurance claims regarding vehicles, rentals, and homes you own. You should be aware that the information provided in the report is subject to Federal Fair Credit Reporting Act (FCRA) guidelines.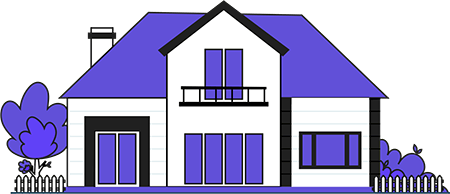 Compare Home Insurance Quotes
Save on your homeowners insurance premium by comparing offers from the best providers in your neighborhood.
This history can go back as far as seven years and includes the date of loss, type of loss, and amount that was paid out, along with basic information like policy number, claim number, and the name of the insurance company that issued the coverage.
Besides your basic information, this report also contains claims that were denied or paid and files that were opened for possible claims.
Also Read: How to Check Home Insurance Claim History
How a C.L.U.E. Report Works
The data for C.L.U.E. is compiled akin to how credit reporting agencies gather information from your creditors about your credit history and usage. Insurers are permitted to submit insurance claims to the C.L.U.E. database on both a daily and weekly basis. While not all insurance companies use the service, most do.
You may not be aware of this, but whenever you apply for homeowners or auto insurance, you authorize your insurance agency to check your records at various consumer reporting agencies. This also includes reporting agencies and services like LexisNexis, which supply them with your C.L.U.E. report.
Insurance companies base the cost of your insurance policy upon your C.L.U.E. report. Expect to have to pay a higher premium and even limited coverage if your C.L.U.E. report shows that you have made several claims. Furthermore, it is not uncommon for certain insurance companies to decline to give you coverage at all due to the number of past claims filed.
Can You Get Your Own C.L.U.E. Report?
Just like with credit reports, under the Federal Fair and Accurate Credit Transactions Act (FACT Act), you have the right to obtain your C.L.U.E. reports yearly.
Due to the fact that what is written in the report can have a positive or negative effect on the cost of your homeowners insurance policy and the type of coverage you are allotted, you should make it a habit to check your C.L.U.E. report often to be certain that all loss information is accurate.
Should you find inaccuracies, you will need to correct your report, and while this can take some time, by doing so you will be certain that you obtain the best coverage choices.
Furthermore, if you do find that your report contains inaccurate or incomplete information, you have the right to dispute that information. You must first notify LexisNexis of errors and, under the FCRA, they must work with your insurers to fix any errors that exist. If they cannot verify the information in your report with your insurer within a period of 30 days, then it must be removed from your C.L.U.E. report.
All correct information in your C.L.U.E. report can be kept for up to seven years from the time it was first reported.
Obtaining Your C.L.U.E. Report
Moreover, you should be aware that there are several circumstances under which you are automatically entitled to receive a copy of your C.L.U.E. report without charge. One of these is if you should receive an "adverse action" notice from your insurer declining you coverage based on what was contained in the report.
So there are three ways in which you can obtain your C.L.U.E. report:
You can order it online and have it mailed to you
Order the report by phone
Request the report by mail by downloading a form and following the instructions
On a side note, if you haven't made any insurance claims on your home in the last seven years, getting a C.L.U.E. report on your property can help in selling your home. Potential buyers will feel confident that they're not purchasing a house with a history of problems that they know nothing about.
To sum things up, a C.L.U.E. report is your claims history which your potential insurance agency will use to decide whether or not they want to take you on as a client. If the information on this report is bad enough, then you can be turned down for homeowners insurance coverage. Also, if you feel that your C.L.U.E. report is in error or simply want to see what it contains, you have the right to request a copy of this report.