This has become a common question among homeowners when it comes to insurance as one may need more homeowners insurance coverage without even knowing.
Homeowners insurance policies consider above-ground pools as personal property.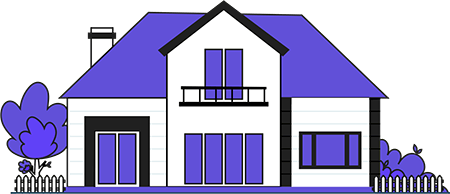 Compare Home Insurance Quotes
Save on your homeowners insurance premium by comparing offers from the best providers in your neighborhood.
An above-ground pool can affect your homeowners insurance eligibility as it increases your insurance cost because of the liability exposure.
Read on as this article explains everything you should know about homeowner's pool insurance.
Can an Above-Ground Pool Affect Your Homeowners Insurance?
Yes, owning an above-ground pool can affect your homeowners insurance.
If you have an above-ground pool or any swimming pool in your house, consider including more liability coverage in the home insurance policy to cover medical and legal expenses in any pool-related accidents.
Increasing this coverage will raise the insurance premiums.
In other words, owning an above-ground pool increases the liability exposure because it offers the chance of you or someone else getting drowned or injured while in it.
It's even more if you own an above-ground pool with a diving board.
Does the Home Insurance Cover Damage to an Above-Ground Pool?
Yes, it does to some extent. And it depends on the insurer and its type of policy, your pool type, and the nature of the water damage.
Be sure to check the insurance documents to confirm the nature of the collapse that's included.
In particular, homeowners insurance policy can help cover your pool repairs when it's damaged by the covered peril. 
The following are the most common kinds of covered perils:
Lightning strikes
Fire
Hail
Vandalism, and
Explosions
Meanwhile, it's good to know that the insurance policy doesn't cover earthquake or flood damage.
Though you can buy earthquake or flood insurance to protect your house from such natural disasters, the insurance policy doesn't include swimming pool coverage.
Homeowners insurance doesn't cover the pool maintenance problem or wear and tear. For example, it might not be covered if your liner rips due to long years of use.
Also, homeowners insurance might not pay to repair your swimming pool if the inside water freezes up and spoils its liner or when the rainwater or ice weight on the cover makes it fall.
Difference Between Insurance for Above-Ground Pools and In-Ground Pools
Homeowners insurance policy coverage can differ from one company to another. But there are common grounds you need to know.
Whether the pool is above-ground or in-ground, it can be covered by any of these three types of policy; 
Dwelling coverage
Other structures coverage
Personal property coverage.
Insurers often consider an above-ground pool personal property and see an in-ground pool as a separate structure.
In the meantime, these are coverage provisions an above-ground and in-ground pool might be covered under:
Dwelling coverage:
In this, your in-ground pool is considered part of your house's structure. And so, covered by the insurance policy's dwelling coverage.
Other structures coverage:
For this, your in-ground pool is seen as an extra structure on your properties.
Other structures' coverage is mostly 10% of a dwelling's coverage. This means when you insure your home for $200,000, the pool will be covered for $20,000.
Personal property coverage:
An above-ground pool can be under personal property coverage since it's a constructed impermanent structure that's mostly portable.
Personal property coverage can mostly constitute about 50%- 75% of your total dwelling coverage. For example, if you insure your house for $500,000, you can cover about $350,000 for personal property coverage damage.
---
The Cost of Having an Above-Ground Pool Insurance
Your homeowners insurance price will go up when you have an above-ground pool.
The cost of above-ground pool insurance mainly depends on the size, type, and value of the pool you own and how your insurer classifies the insurance.
Generally, budget about $25-$75 or even more per month to insure your pool, especially if you're in the US.
Raising the liability coverage will increase your premiums. The protection is needed because of the extra risk of owning an above-ground pool.
Be sure to enquire how the insurer or the insurance company classifies your pool since it affects the amount of coverage you'd pay.
If your swimming pool is considered personal property, you may want to raise your personal property coverage limit.
Not minding the increase in cost, homeowners insurance is important as it protects your above-ground pool in the case of any unforeseen circumstances.