This is an excellent question, and the answer is no. Your homeowners insurance will not cover the damage caused by a tree on your property falling onto a neighbor's home. In such instances, the situation is covered by your neighbor's homeowners insurance.
Your homeowners insurance is focused on covering damage to your property, not your neighbor's. Thus your home insurance policy is only effective if the damage occurs on your property. If your neighbor's property is damaged, that will only be covered by their homeowners insurance, even if the tree is located on your property.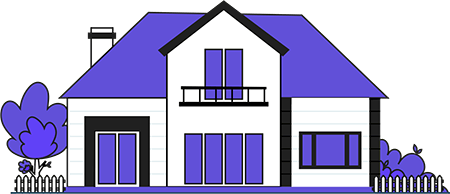 Compare Home Insurance Quotes
Save on your homeowners insurance premium by comparing offers from the best providers in your neighborhood.
Avoid Negligence
Here is what you have to realize. The fact of the matter is that just because your neighbor's homeowners insurance protects them financially if a tree on your property falls on their house doesn't mean that you get away free as a bird. Homeowners insurance only provides protection against specific events. If a tree falls down, the average homeowners insurance policy will likely cover the situation if it was the direct result of an event such as a snowstorm, windstorm, or lightning.
When it comes to negligence though, this is a different matter. Negligence is normally not covered. For instance, if you have a tree on your property that is rotting or completely dead, and it falls over, you will probably be held responsible for the cost of any damage caused by its falling down. In like manner, if your garden or landscaping is making the soil loosen, and that is the reason for a tree falling down, you will also be held responsible.
In the end, your neighbor still has the obligation to read over their home insurance. However, if their insurance agency determines that the tree fell on their house due to negligence on your part, you will probably be held liable.
When a Homeowner Could Be Liable
This is a sensitive area. There are some instances where a homeowner could be responsible for damages if his tree falls onto a neighbor's house. One of these is if you are trying to cut down the tree yourself and have failed to hire a professional who knows what they are doing.
Also, if the tree was diseased or unstable and the homeowner was aware of it, they could be held liable if it falls over by itself. This is especially true in the case of experiencing a light storm that would usually not present a problem and the tree falls over because it already was in a bad way. Whenever a homeowner is aware that they have a sick or dying tree on their property, it is their obligation to take the necessary steps to keep it from simply falling over and damaging their neighbor's house or property.
Moreover, if the homeowner is found to be responsible for the fallen tree, their homeowners insurance will pay up to the policy limit. Any greater expense and the homeowner is financially obliged to pay up from their own pocket.
The Deductible
While it's a pleasant fantasy to imagine a tree falling on a home and no one having to pay for the damages because the homeowners insurance policy will take care of it all, you're forgetting about the deductible. Your neighbor will still have to pay their deductible before the insurance will take over.
Having brought that point up, here's something else to think about. Sometimes people will actually contest their deductible and attempt to force you to pay for it. For example, maybe your negligence wasn't the main reason for the tree falling down, but it may have been part of the reason. Such as in the case of a decomposing tree that fell over in a windstorm. Here is where your neighbor might believe that they're unfairly being made to pay for their deductible and might request that their insurance agency attempt to have you cover the expense.
In the event of a tree on your property falling on your neighbor's house, under normal circumstances, you aren't held responsible for any of the expenses. All you need to do is to ensure that there are no dead, rotting, or diseased trees on your property to cause trouble, and you will be okay.
So to make a long story short, your homeowners insurance policy will not cover the cost of damage from a tree on your property falling onto your neighbor's house. Rather, it is the obligation of your neighbor's homeowners insurance to cover the expense of the damages.
This is because it is the purpose of your homeowners insurance to provide protection to you for any damage that occurs to your property, not to take care of your neighbor. Your neighbor should have homeowners insurance of their own that will cover the cost.