If you own an Airbnb, you know that running one can be expensive and tenants can get a little wild while on vacation. While the Airbnb you currently rent may at one point have been your home, your homeowners policy will not likely cover damages done to your Airbnb by your guests. To best insure and protect your Airbnb you should look towards other types of insurance and protection for your home.
Dwelling Coverage
If you receive compensation from your home insurance (more on that later), dwelling coverage is going to be your best bet. This clause in your homeowners policy is not a guarantee, but if it is included in your insurance it will help cover unexpected structural damage to your home.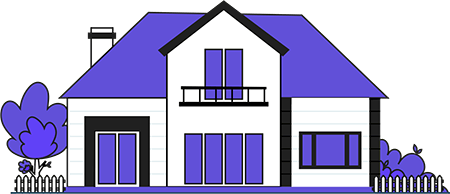 Compare Home Insurance Quotes
Save on your homeowners insurance premium by comparing offers from the best providers in your neighborhood.
Why Does Homeowners Insurance Not Cover My Airbnb Property?
While Airbnbs can be a home, the act of home-sharing is seen as a business activity by most insurers. For this reason, most home insurance policies consider Airbnbs to be a business venture. Homeowners insurance does not typically cover issues that arise with Airbnb.
There may be some exceptions to this rule, but that all depends on how your policy defines what renting and short-term rentals are. Rental properties like Airbnb, can offer both long-term and short-term rentals. The general rule is that short-term rentals are rented for less than a month (up to 30 days), while long-term rentals are rented for a longer period of time.
Who rents your property is also a consideration for trying to get coverage. Some insurance policies don't require extra insurance for family members staying in your home. This of course is different for your Airbnb rental, because you are hopefully not charging your brother and his kids for staying at your property on the 4th of July. This possible exception only really applies if your family is staying in your Airbnb for an extended period of time.
How Can I Get Coverage for My Airbnb Property?
Fortunately, if needed Airbnb offers coverage up to a million dollars. According to the Airbnb website, Aircover (the coverage they offer to their hosts) acts as liability insurance for the host. This coverage helps respond to charges if a guest was harmed, their possessions were stolen, and if a guest caused damage to common areas or properties that are close by.
Aircover does not cover damages or injuries that were done intentionally or damages done to the Airbnb location and the possessions inside it. So if your vacationer gets a little too rowdy with his buddies, Jack and Daniel, and breaks your expensive crystal vase, you will get compensation from them and not Aircover.
While some level of protection and coverage is always great, Aircover might not actually be the financial protection you are looking for. If Aircover does offer you compensation it may also not provide enough to cover the damages and expenses. This is where the main type of insurance you will need to respond to property damages comes in.
What Type of Insurance Do I Need to Protect My Airbnb?
Business insurance is what protects business owners from events that can result in loss or damage done during normal business practice. Because Airbnb properties are a part of a business, business insurance is what will best protect your Airbnb. Business insurance policies can meet the insurance needs of an Airbnb property (up to its total liability).
Options for Insurance
When it comes to business insurance for your Airbnb, you have many options. In 2022, some of the best-ranked insurers for short-term rentals include:
Proper Insurance
American Family
American Modern
Farmers
Nationwide
Allstate
CBIZ
These insurers write policies in almost all areas of the United States and provide a range of coverage depending on what is needed. Some of the clauses and protocols to look for that can be most beneficial to Airbnb owners include:
Only being charged for days you have tenants
Bundling and loyalty discounts
Lost rental income protection (In the event the vacationers vacation a little too hard and you have to put your next tenant)
Ability to add on the extra coverage
Online quoting and ease of account management