The last place you want water in your bathroom is on the floor, but unfortunately, bathroom leaks happen and when they do it can be an expensive fix. Luckily, if the water damage was quick and abrupt it is most likely covered by your home insurance.  If your bathroom leak was a result of a gradual leak it will likely not be covered by your policy.  Nevertheless, some of the expenses from your bathroom leak may be covered under different clauses in your homeowners insurance.
To determine if your bathroom leak and corresponding water damage will be covered by your homeowners insurance, consider: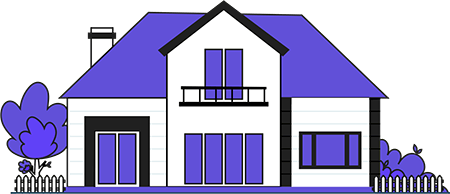 Compare Home Insurance Quotes
Save on your homeowners insurance premium by comparing offers from the best providers in your neighborhood.
Where the source of water came from
How fast the water damage occurred
What damages were done in and outside of the bathroom.
Damage and Source of Water
Your best chance of getting coverage for a bathroom leak is if the water source came from inside your home. If water came from outside your home, your home insurance will not cover the damage of your bathroom leak.  
Tip: To determine if the leak came from outside your home, turn off your main water valve. If the water stops quickly, then the leak is most likely coming from somewhere in your home. If the leak continues to go, the leak is most likely from an external source to the home 
What Water Damage Isn't Covered
The general rule is that bathroom leaks that are caused by gradual water damage are not covered by home insurance. Damage caused by tropical storms is most likely covered, but there may be wind or hurricane deductible in your policy. Other types of water damage that are likely not covered by your policy include:
Problems that should have been fixed with routine maintenance
Replacement or repair of the damaged water source 
Flood damage*
*Water damage caused by flooding is also not covered in a homeowners policy. If you live in an area that is prone to flooding, it is wise to have a flood policy and this may already be required by your lender.
What Water Damage Is Covered
For most home insurance, water damage caused by storms, sewer backups, overflows, and burst pipes are covered. These events are covered because they are seen as abrupt and unavoidable, and are therefore most often not the fault of the homeowner.
When it comes to water damage there are several different types of coverage that may be included in your homeowners policy. These clauses may not cover the leaky bathroom itself, but they may provide some coverage for the structural and other types of damage done to your home and possessions. If your policy does not include these clauses, they may be worth adding on.
Dwelling  Coverage
Dwelling coverage responds to the damages done to the structural elements of your home. This coverage may help cover the cost of repairs done by water damage to your walls, floors, roof, or other structural elements. While this coverage isn't going to cover the cost of your plumbing repairs, dwelling coverage may help respond to the issues caused by water damage from your bathroom leak. Dwelling coverage may also cover some of the expense of your built-in appliances should they be affected.
Personal Property Coverage
Property coverage responds to damages done to your personal possessions. This can include lower-cost items like your favorite t-shirt, or higher-end items like your television or couch.  The term personal property is a loose one, and luckily property coverage provides compensation for everything from toiletries to towels to the book you keep on top of your toilet.
It is important to note, that while this clause can cover a range of items, there are often monetary limits to how much this coverage pays out.
Additional Living Expenses (ALE) coverage:
Additional Living Expenses coverage kicks in with the expenses from needing to leave your home while it is being repaired. This can help compensate for the expenses of staying in a hotel, eating out, and other expenses that go beyond the normal costs of damage done to your home.
In the event that your bathroom leak causes damage and you need to leave your home for a period of time, this clause can help alleviate some of the costs of being away from your home.