With crime on the rise, you can never be too careful with your possessions. That's why it's important to make sure that your insurance will help cover you in cases of theft or vandalism. Thankfully, when it comes to bikes, homeowners insurance will usually cover theft. This is because bikes are covered under your personal property coverage, which will cover theft for many of your possessions, including bikes.
What Is Personal Property Coverage?
Personal property coverage is the part of your homeowners insurance policy that helps cover the cost of damaged items on and inside your property. Though the specifics will vary from policy to policy and between different policy types, personal property coverage acts very similarly to how your homeowners insurance works for your house: it provides compensation for damages from perils specified by the policy. However, the perils covered by the personal property coverage can, and often do, differ from the perils that cover your house.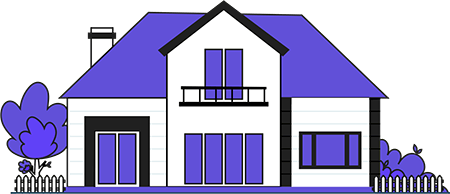 Compare Home Insurance Quotes
Save on your homeowners insurance premium by comparing offers from the best providers in your neighborhood.
Luckily, Most Personal Property Policies Cover Bike Theft
The most common types of homeowners insurance, HO-3 and HO-5, are very likely to explicitly cover theft. The exact details of the coverage, however, can vary. For example, many policies will require a deductible that you have to pay before they'll start covering damages, and it's possible that this deductible can be more than the cost of the bike, meaning that even though the bike is technically covered, it might not be effectively covered. Similarly, some insurance policies can also have a coverage limit specifically for bicycles, which might limit how much of it will be covered in the event of a theft. Always make sure to check your specific policy to learn about the details and coverage for your bike.
If you're unsatisfied with the way your insurance policy would handle a bike theft, you can request a personal property endorsement. A personal property endorsement, also known as a floater or more technically "scheduled personal property," is a policy extension you can purchase where your insurer appraises the worth of an item, and a special policy is made so that you can pay for additional protection for the item. In this process, you can typically negotiate additional covered perils, or the deductible paid in the case of theft, damage or destruction. If your bike is particularly expensive, this might be a good option to consider to ensure that you have full coverage.
The Process for Making a Theft Claim Is Straightforward
In the event that your bike does end up stolen, the process for making a claim isn't very complicated. First, you'll have to file a report with the police stating that your bike was stolen. While not strictly necessary, it'll help validate the claim when you contact your insurance company to file your claim, and they do their investigation.
After that, you'll have to decide whether or not filing a claim with your insurance company is worthwhile. This will depend on the value of your bike, and on the specifics of your policy. You'll not want to bother if the bike is worth less than the deductible, after all. Once this has been determined, you'll file your claim with the insurance, and they'll investigate and determine whether or not the claim is acceptable.
How Can I Make Sure a Claim Gets Accepted?
While you can't ultimately control what the insurance accepts, you can increase the validity of your claim and make it more likely that the insurance will accept it. Filing a police report as soon as the theft is noticed is an important step for increasing claim validity. Making sure you took adequate care to prevent theft is also important; if the insurance company believes you were negligent, then that can become grounds for claim denial. Therefore you will want to make sure you have a secure location for your bike that can present a challenge to a thief. This will have the additional benefit of forcing a thief to leave behind visible evidence, as they'll have to physically breach the location of your bike.
On the topic of visible evidence, one concern insurance companies have are fraudulent claims, so the more visible evidence you have, the better a case can be made that the theft was genuine. Make sure to document as much as you can, including pictures and possibly security camera footage.