Homeowners policies state very little about mold damage even though it's a serious issue in many US homes. There are different forms of mold damage and it is hard to estimate whether your homeowner insurance plan will cover the damage in your home. What should you know about making claims for mold damage and does your current policy cover it? This guide will focus on all things concerning HO-3 and HO-5 plans in regards to black mold damage and repairs.
So, does home insurance cover black mold? No, black mold is not covered in standard homeowners policies unless it was caused by a named peril such as water damage. If the mold damage came about as a result of owner neglect, the insurance company will not pay for the claim. The only way to make a successful claim for black mold is to provide evidence the mold formation was not preventable.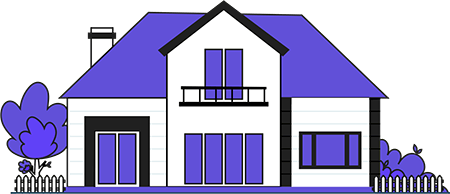 Compare Home Insurance Quotes
Save on your homeowners insurance premium by comparing offers from the best providers in your neighborhood.
Mold typically occurs in humid and wet areas and this is why it's common during the summer months or year-round in certain states. Homes located in humid areas require frequent maintenance to fight against the formation of black mold. Take proactive action to prevent the spread of moisture in your home.
What Causes Black Mold Formations?
Black mold is caused by water damage. For instance, accidental discharge or overflow of water from water pipes or HVAC systems can create the perfect breeding ground for bacteria that continues to grow and replicate on its own. Eventually, the mold can spread to a huge portion of your home if it's not treated.
High humidity provides the ideal conditions for mold growth. If you can prove the molding is linked to any of the common named perils like fires, lightning, ice/snow weight, water damage, etc, you may be able to file a successful claim.
Perils that Are Covered for Black Mold
Every HO-3 policy includes perils that are covered such as water damage and falling objects. For instance, if there's a roof leak and this leads to water leakages that produce black mold in your home, you could file a claim for mold damage. All unpredicted and sudden accidents that lead to the formation of black mold will be covered under a homeowners policy.
Example: The AC unit starts malfunctioning and leaking water in the ceiling. This causes mold to start spreading in a certain area of the home. In this case, you could file a successful claim. The same applies to sudden pipe bursts in the winter or other named perils that can cause black mold.
In either case, you will have to prove to the insurance company that this was not your fault and that you couldn't have prevented the black mold formation. Mold removal costs tens of thousands of dollars and you should consider preventive measures in advance, rather than filing a claim that could raise your premiums.
If you have a serious mold problem that occurred in a vacant property or intentional neglect, you will not get reimbursed. The insurance company will even request proof if the peril is named in your homeowners policy. Example: If you have a water leak or a flood, you have to prove this wasn't preventable.
How Much Will the Insurer Pay Out?
The insurance company will pay the full cost of the repair if you have a legitimate claim on black mold. Mold damage is NOT cheap to repair – in fact, it may cost up to $30,000 to remove molding from a property. This is why most insurance companies refuse to pay a lot of mold-related claims. Insurers even cap the total amount you're entitled to for mold remedy. Usually, this amount is between $5000-10,000 per home.
Note: There are options to raise the limits on your mold coverage which you can add as an add-on. This coverage can be expensive in a humid state like Louisiana or Texas where mold forms easily due to excessive heat. This is why it's best to invest in efforts to prevent molding in the first place, rather than upgrading your plan or filing a claim with the insurance company.
Examples Of Successful Black Mold Claims
Evidence can make or break your claim when you're filing for black mold. You have to prove this is out of your reach. The following are scenarios for which you could file a successful claim with evidence:
A water pipe bursts in your basement, causing the water to spread to the home and causing black mold on the walls.
A house fire being put out with water pipes by firefighters caused black mold to form on the exterior of the walls.
A washing machine in your bathroom malfunctions, releasing a lot of water and causing molding at the lower levels of the bathroom.
How To File A (Successful!) Claim For Black Mold
To file a successful claim for mold, you have to provide evidence & documentation. In some cases, the insurance company will have a mold removal team on call that they can dispatch to your house. The team can arrive and completely clear out the mold while drying the area where it grew.
This can save you a lot of money because you won't have to pay a deductible for the removal. In most cases, you'll have to file two claims at once – one for the mole removal and one for the cause (i.e. burst pipe in the basement). Here's a step by step guide to filing a successful claim:
Contact your insurance agent ASAP. Ask the insurer if mold removal is covered by your homeowners plan and whether they can send an adjuster to estimate the cost. Take evidence of the affected area such as detailed pictures of the cause and the mold progression. Keep in mind you may discover more mold damage in your home after the water damage occurs. The insurance company will ask you to provide evidence that this damage resulted from a covered peril and not a lack of maintenance.
Damage control. There are a few things you can do to prepare your home for mold treatment. Start by running a dehumidifier that will clear out the room and prevent further growth. If the room is closed, open up the windows and start ventilating it. DO NOT clean the mold yourself. The insurance adjuster has to review all damaged property first.
Review your policy and your mold coverage limits. This will help you determine whether you'll have enough coverage to hire a remediation crew.
Figure out whether the black mold is related to the water damage claim. If this is the case, you won't have to pay two deductibles.
How To Prevent Black Mold: Measures
There are preventive measures you can take to prevent the spread of black mold in your household. According to the CDC, mold needs a food source in order to grow. This food source includes materials such as drywall or insulation. Mold can even feed off a mattress. Start by thoroughly removing all water if your home was flooded.
Go to the laundry/kitchen areas and ventilate them – do this for all tight, humid spaces in your household. Focus on roof and window repairs to fix all potential leaks. This way you can control the water penetration in your home and minimize the spread of mold – even if you live in a humid state.