You wake up one day, after a major storm. Perhaps there was lots of lightning, or lots of wind, whatever the case parts of your house were damaged, including your boat. Will your homeowners insurance cover the damage? Your homeowners insurance will cover certain kinds of boats, however, it is not made to cover boats, and therefore the coverage will be lacking. That's if you can even get coverage for your boat, as there are lots of things that can disqualify a boat from being covered by your homeowner insurance, including its size and how fast the boat can go. Even if it can get covered, it will be quite limited, sometimes as low as $1000.
Boats Typically Have Their Own Kind of Insurance to Cover Their Needs
The reality is that your homeowners insurance is simply not designed to cover items like boats. It is similar to cars: it simply is out of the scope of the purpose of homeowners insurance, especially since boats tend to have their own separate insurance policies to cover the various disasters that can befall a boat. Your homeowners insurance tends to focus more on your home and the possessions inside of your home, rather than vehicles like boats or cars. Typically, your insurance will not cover any type of motor vehicle that travels faster than a set amount of speed, typically 25mph to 35mph.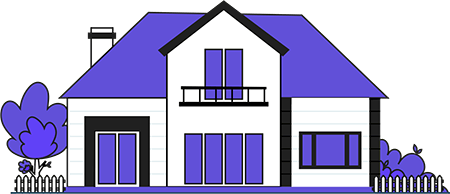 Compare Home Insurance Quotes
Save on your homeowners insurance premium by comparing offers from the best providers in your neighborhood.
Also Read: Does Homeowners Insurance Cover Boat Rental?
Nevertheless, There Are Still Some Aspects of Boats Covered by Your Home Insurance
There are some things that are still covered by your home insurance that involves boats. For example, if you have personal property on a boat that is stolen off of the boat, your homeowners insurance might still cover the personal property, even though it is on an uncovered boat. There can be limitations to this, however, including the location of the boat at the time of the theft. If your boat is small and slow, then it might be considered to be your personal property, which means that it will be covered under your personal property protection, the same part of your insurance that insures your personal belongings.
Your Personal Property May Be Covered by Your Insurance
Coverage for your personal property is dependent on the peril which damages it. A peril is any event that can damage your home or property, and it is generally through perils that your insurance determines whether or not to cover the damage. Your insurance will categorize perils into one of two categories, either covered or uncovered. With most modern homeowners insurance policies, all perils will be covered, except for an explicit list of uncovered perils. Typically, this list involves acts of homeowner negligence, such as failing to repair old parts of your house (such as not replacing an old pipe that bursts and damages your property), or perils that cover a wide area, such as earthquakes or floods. Covered perils typically include things like damage due to windstorms, hailstorms, or theft and vandalism.
Personal Property Coverage Limitations
Typically, your insurance will have different sections that cover different aspects of the things you own. Dwelling coverage for your home, other structures coverage for structures on your property other than your house, or personal property protection for your possessions, just to name a few. These different categories have different kinds of coverage, and this is true, especially for personal property protection. Typically, the coverage will be quite a bit more limited than the protection for your home – instead of covering many different kinds of damage, it will instead offer a list of perils that it protects against. Typically, this will include things like theft, vandalism, fires, damage from crushing (think a collapsing tree), and other basic scenarios. How your coverage looks can depend on the type of policy that you have. The two most common types of homeowners insurance are HO-3 policies and HO-5 policies. HO-3 policies are the most common and offer the type of protection described above. With an HO-5 policy, the coverage will be similar to your home, where all perils are covered except for a specified list. HO-5 will also cover a larger amount of cost than an HO-3, making it ideal if you have lots of expensive items. If your boat meets the requirements to be considered personal property, then you can expect this kind of protection, but you should consider buying boating insurance to make sure you are more thoroughly covered.