The goal of home insurance is to cover your home and the assets inside of it. The amount of coverage for garages under home insurance depends on several factors including if it's attached or detached, the use and contents of the garage, and the events leading to any damages.
As always read the fine print of your policy, but in general consider these factors when looking at coverage for your garage: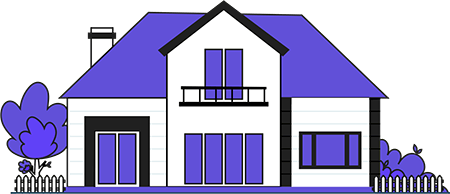 Compare Home Insurance Quotes
Save on your homeowners insurance premium by comparing offers from the best providers in your neighborhood.
Is your garage attached or detached from your house?
What are the contents of your garage?
What is your garage used for?
What perils and events are covered by your insurance?
Attached vs. Detached
While it may only seem the only difference is how much walking you need to get inside your home, the difference between an attached and detached garage is significant when it comes to how your coverage is classified. This is because structures that are attached to your house are more structurally secure, and therefore are better protected and are at a lesser risk for damage.
Attached
If your garage is attached to the house, it falls under dwelling coverage. This is the portion of your insurance that covers your overall home structure and the contents. An attached garage requires that there is a shared wall between the home and the garage and a door between the two.
Detached
If your garage is detached, it falls into the "other detached structure" category. Examples of detached structures include detached garages, gazebos, sheds, barns, guest houses, patios, and certain pools. To have the best home insurance coverage, it is best to have a total coverage that covers the replacement of the entire home and other structures.
Detached Garage Coverage
The amount of coverage you receive depends on what your policy states your percentage of total coverage is for all of your detached structures. The coverage on detached garages is often a percentage of the total coverage, normally about 10%. 
If there are multiple accounts of damage that occurred in the incident, you will not receive the total amount of coverage for each item. Instead, these expenses will be added together and considered in how much your insurance pay out will be. For example, if the total coverage of your home is $350,000, a detached structure of coverage at 10% would give you a maximum of $35,000 for any covered peril for your detached garage. 
Contents and Use
Keep in mind that the coverage on detached garages is a percentage of the total coverage, so even if there are high-value items inside, the total amount of money given by insurance will likely not cover the entire cost of the detached garage and the contents inside. Items are valued based on their age and worth at the time of the incident and not their original value.
If you use your garage for regular garage things you are in luck. It doesn't matter if your garage is full of vehicles, your old baseball card collection, or a box of your grandma's fine china, the structure of your garage is still covered under home insurance.
Business Exception
If your garage is used for business purposes, any damages to your garage will likely not be covered. To insure your business items and space make sure you have business insurance with your garage noted as your workplace.
Perils 
The big question when it comes to coverage is: was the damage caused accidental or avoidable? Each policy has different events and incidents that they cover for. These vary from policy to policy, but in general home insurance covers damage from:
Fire or smoke damage
Vandalism or theft
Weather events (lightning, wind, hail, etc.)
In general, most home insurance policies do not cover damage caused by:
Flooding or other water damage (this includes rust, mold, or rot)
Insect or rodent infestation
General wear and tear
Negligence
When it comes to negligence, if a car caused damage to the garage, coverage for the insurance would come from the car insurance of the driver who caused the damage. If it is the homeowner that caused damage to their own garage, these damages may not be covered by home or car insurance because the incident was seen as negligent. If damage is also done to any vehicles inside the garage, this will be covered by car insurance.