Ductwork is part of your HVAC system, and home insurance excludes repairs and damage to it unless caused by a covered peril. Covered perils consist of sudden, accidental events that cause severe damage, such as storms, lightning, and fires. Repairs to ductwork because of age of defects are considered maintenance issues and outside the scope of home insurance coverage.
Covered Perils and Ductwork
Home insurance policies compensate homeowners for damage caused by covered perils to all parts of the domicile. Ductwork is included in the domicile and, therefore, an item the insurance company bears responsibility for in a covered event.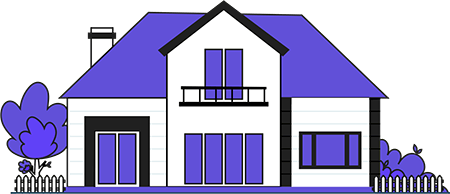 Compare Home Insurance Quotes
Save on your homeowners insurance premium by comparing offers from the best providers in your neighborhood.
For example, imagine a tornado strikes your home, causing massive damage. Likely, the ductwork in the house was severely damaged or totally destroyed. In either case, the insurance company would repair or replace the ductwork and all other parts of the domicile to make the policyholder whole.
Ductwork Maintenance and Routine Repairs
Because it's part of your HVAC system, home insurance companies treat ductwork the same as appliances. If a covered peril damages or destroys it, the insurance company will repair or replace it. However, as HVAC systems age, they suffer mechanical breakdowns, including ductwork. Those maintenance items remain the responsibility of the homeowner.
Home Warranties
Home warranties are often a good idea because they pay for repairs excluded by your homeowners insurance. For instance, home insurance excludes mechanical issues for your HVAC system and kitchen appliances unless a covered peril impacts them. However, a home warranty provides reimbursement for costs associated with mechanical breakdowns of covered appliances, minus the deductible.
What Events Do Homeowners Insurance Policies Exclude?
In addition to maintenance items, homeowners insurance policies exclude specific events. For instance, standard policy language prohibits claims because of floods, earthquakes, and sometimes hurricanes.
Floods
Homeowners insurance companies across the country exclude flood damage from their coverage. This includes water that overruns the banks of lakes or rivers and torrential rainfall. However, the government has a flood insurance program that guarantees all homeowners the right to purchase a policy through FEMA. Flood insurance comes at an extra cost but can save you thousands or hundreds of thousands of dollars should a major flood strike your home.
Earthquakes
If you live in an earthquake-prone area, you probably have concerns about one damaging or destroying your home. Unfortunately, if this happens, your home insurance policy offers no help. However, you can purchase earthquake insurance as a separate policy. While still valuable, earthquake policies have much higher deductibles than standard homeowners insurance.
Hurricanes
Hurricanes can literally blow away your home. Most home insurance policies consider hurricanes a separate category from other perils. Some policies exclude hurricanes, while others cover them with a higher deductible. Separate hurricane insurance is also an option.
Ductwork serves an essential function in every home: it delivers the warm and cold air needed to make your residence habitable. As part of your HVAC system, ductwork is only covered if damaged or destroyed by a covered peril, such as a storm or fire. Repairs due to age or defects remain the responsibility of the homeowner.