Your home is your largest investment, a place where you rest from work, raise your family, and build equity. As such, when going through the home-buying process you purchase homeowner's insurance to cover damage to your investment. It is common sense to protect your investment. However, what most homeowners don't realize when purchasing insurance is that a standard homeowner's policy doesn't cover earthquakes and earthquake damage. 
According to new estimates, over 143 million Americans live in areas that can be affected by earthquakes and aftershocks, including damage to structures and homes. As I am writing this article, over twenty-nine thousand earthquakes have been detected in the United States in the past year; fifty-two quakes happened today. Although you may not feel the impact of a quake in your area, your home is different. Shifting ground, cracks in the foundation, and the age of your home can all lead to a financial disaster.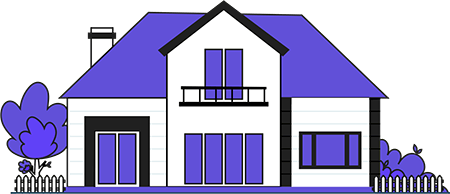 Compare Home Insurance Quotes
Save on your homeowners insurance premium by comparing offers from the best providers in your neighborhood.
You may be one of many homeowners who believe that your homeowner's insurance covers damage from earthquakes, aftershocks, and shifting tectonic plates. Or, you may be unaware that you live in a hazardous seismic zone. So, how do you protect your home and investment, especially if you are living in a high-risk area?
Earthquake Insurance 101
Most homeowners' policies cover wind, hail, storm, and fire damage. Earthquake insurance can be added to your existing policy with your current insurance company, or you can go with a specialty policy that focuses on earthquake coverage. This specialty insurance is available in most states and will cover everything from damage caused by earthquakes to your home and personal property to temporary living arrangements when you are displaced by a quake. So, if the foundation of your home is damaged in a quake, your stove breaks, and you need to live somewhere temporarily while the gas line is repaired, all of these would be covered under an earthquake insurance policy. This can be especially helpful if you are displaced for a long period of time or lose your home and all of your personal property within the home. 
It's important to note that earthquake coverage does not extend to fires, vehicle damage, floods, or sinkholes caused by the quake. These are either covered by homeowner's insurance or other specialty policies. This is important to note because if you live by a water source that would flood your home after an earthquake, this would be covered by flood insurance, not earthquake insurance.
Earthquake Insurance Cost
Just like with homeowner's insurance, the annual cost for earthquake insurance will vary on multiple factors like your home's estimated value, the risk factors based on the area where you live, the age of your home, proximity to tectonic fault lines, the total number of stories in your home, as well as foundation size and what materials went into building your foundation. If you live in high-risk areas, such as California, Washington, or Missouri, expect to pay more for earthquake insurance than in other areas of the country. However, due to the proximity to fault lines, it is more important for residents in these states to purchase coverage.
Also similar to your homeowner's policy, earthquake deductibles will fall somewhere between 10 percent to 20 percent of the total policy cost. In most mid-range-risk areas, policyholders will pay anywhere from $800 to $2000 annually, whereas, in San Fransisco, policyholders can expect to pay anywhere from $2000 to $5000 annually. Reach out to your insurance agent or financial planner to get an estimate for your home, keeping in mind how important this coverage is to your future security.
How Do I Determine if I Need Earthquake Insurance?
Many homeowners mistakenly believe that their regular policy will cover damage sustained due to earthquakes, or feel that they will have enough in savings to cover personal items or damage to their home. HomeAdvisor reports that earthquake damage costs homeowners anywhere from $4000 to $30000 in repairs, with older homes sustaining so much damage they are unrepairable. In the United States, sixteen states are considered high-risk areas, with forty-two states at risk from earthquake damage due to tremors and aftershocks that can be felt miles away.
California, Missouri, and Washington- the U.S.'s top three earthquake markets- are woefully unprepared for earthquake damage. According to FEMA's website, only 10 percent of California's residents, 11 percent of Washington's residents, and 12 percent of Missouri's residents have earthquake insurance. In the case of an earthquake, many of the residents who are not covered can expect financial loss exceeding the value of their homes.  
While seismic activity can be found up and down the West Coast, the East Coast is another area with significant activity. All down the coast, from Maine to Florida, also experiences earthquakes and should consider the security of an earthquake policy.
Don't Risk Your Investment
The old saying goes "It's better to be safe than be sorry," and this applies double to your home. For most Americans, their home is their biggest investment. If their home is structurally unsound due to an earthquake, it would lead to financial ruin. Although states do not require earthquake insurance, if you live in an area where seismic activity is likely to occur, an add-on policy is worth looking into. Being proactive is worth it, especially when the unexpected occurs and you need to protect your family.