You need to keep in mind that the main goal behind homeowner's insurance is to aid you in recovering from unavoidable hazards. So if you are in need of compensation for the exterior painting of your home, whether or not you receive it will be subject to determination based on the circumstances of your case.
Unpreventable or Unavoidable Damage
It doesn't matter if you are planning to undertake some home repair work involving the exterior painting of your home, or you would simply like to give your walls indoors a new look, or if your paint has been marred by water damage, the plain fact is that your new paint job might not be covered by your homeowners insurance policy.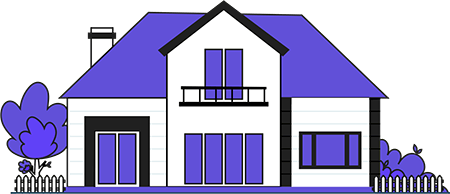 Compare Home Insurance Quotes
Save on your homeowners insurance premium by comparing offers from the best providers in your neighborhood.
Normally, homeowner insurance companies provide their clients with reimbursement for extreme paint damage, mildew, rust discoloration, or bubbling paint when a situation has occurred that was not avertable. But that needs to be clarified.
Is Damaged Paint Covered Under Homeowners Insurance?
You should be aware of the perils and kinds of damages that are covered by your homeowners insurance such as fire, vandalism, or a violent windstorm. If the exterior paint on your home has been damaged due to a covered hazard, it is probable that your insurance agency will cover the cost, meaning that they will reimburse you for the materials deemed necessary to paint or repair damaged or bubbling paint.
When Is Paint Damage Not Covered?
Don't assume that damaged paint and bubbled paint are covered by your homeowners insurance in all instances. Here is where you have to deal with some restrictions that keep homeowners from obtaining insurance coverage for various types of damaged paint.
If you just happen to feel like repainting your home a different color, that certainly doesn't qualify you for homeowners insurance coverage. Your chosen insurance agency will almost positively not give coverage for sprucing up your exterior paint job, nor for ordinary wear and tear repainting, because that is not featured under covered perils.
How to Claim Compensation For Exterior Paint Damage
To be sure that your damaged paint claim will be covered, you must be certain that your insurance company has not omitted the cause of the damage from coverage. For instance, in certain states, many homeowner insurance policies will omit flood coverage. So if you should happen to have your exterior paint badly damaged by a flood, your homeowners insurance will probably refuse to reimburse you.
However, if the situation is such that you have bubbling paint resulting from water damage from burst pipes, you may be able to obtain compensation for paint damage.
It all comes down to the fact that you have to thoroughly read your homeowners insurance policy and find out for sure exactly what is covered and what isn't, and under what circumstances. There can be exclusions in your policy for paint damage that you are unaware of. Furthermore, there is the unfortunate fact that many homeowners insurance companies will attempt to unfairly minimize the true cost of repairing bubbling paint.
It's an unfortunate fact that many homeowners simply do not want to be bothered reading the details of their insurance policy. It's exactly what you are unaware of that can take you by surprise when you need to activate a claim.
One of the basic duties of every homeowner is to take care of their property and keep it in good condition. And guess what? That includes your home's exterior paint. This standard rule doesn't just benefit your homeowners insurance company, but it helps to keep your property value at a certain level.
Always remember that your insurance company is a business. While they want to provide you with the financial assistance that you need at the appropriate times, they are also interested in making money. So be aware of exactly what is in your homeowners insurance policy in order to avoid unpleasant surprises.
Essentially, what you should take away from here is that your homeowners insurance will not pay for an exterior paint job just to beautify your home. That is your responsibility under their maintenance terms. There are certain perils that are covered by your home insurance, which if they occur and affect the exterior paint of your home, you can rest easy that your insurance company will honor your claim. However, you still have to know if there are any perils that they have eliminated from coverage and exactly what they are.
Moreover, your insurance company expects you to be responsible for the maintenance of your home, therefore, if it is deemed that the situation that has occurred with your damaged exterior paint was due to negligence on your part, your claim will be rejected. So be sure that you know your responsibilities as a homeowner and the precise coverage that your homeowners insurance agency is willing to provide for you as far as exterior paint damage goes. Then you will know exactly where you stand when the time comes to file a claim.