Well, let's make the answer to this question short and sweet. Your homeowners insurance will almost certainly cover damage to your fence if it was the result of a covered peril. This would pertain to things such as fire, vandalism, or perhaps a storm. That's the good news. The bad news is that if the damage that results is due to ordinary wear and tear or poor maintenance, it probably is not covered.
Besides instances of a covered peril, any detached structures located on your property, such as your fence, are not covered by your homeowners insurance unless you buy unscheduled structures coverage.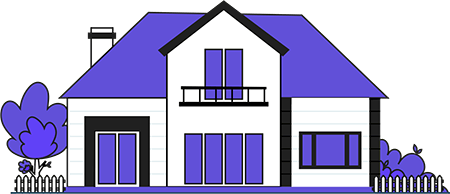 Compare Home Insurance Quotes
Save on your homeowners insurance premium by comparing offers from the best providers in your neighborhood.
Unscheduled Structures Coverage
This type of coverage is coverage that you can selectively add to your insurance policy. It provides limited protection of up to $5,000. You should be aware that if you only depend on this sort of limited coverage, you can be left without adequate protection to reimburse you for damages to your detached structures.
So what you can do is you can buy further coverage to completely protect structures that are not attached to your home, such as gazebos, detached garages, sheds, and fences by choosing higher limits to meet your requirements.
Homeowners Insurance Fence Coverage
As stated previously above, your fence is normally covered for the same type of perils as your home, for example, damage from hail, violent winds, lightning, fire and smoke, vehicle damage, and vandalism.
Now if your fence is damaged by an occurrence that is covered by your insurance and you file a claim, the replacement or repairs will be for its actual cash value (ACV), which means that your insurance agency will provide reimbursement for the cost, but they will also consider the age of the fence and its condition at the time of the incident.
If your fence is not a wooden fence, then you can opt to schedule it — which simply means that you can opt to have higher coverage for a broader amount of risks for just your fence — and receive replacement cost value coverage (RCV), which replaces or repairs your damaged or destroyed property with new property of the same kind and quality. So in this instance, you will not have to be concerned about paying more than your deductible to cover the damage. Wooden fences are only eligible for ACV coverage.
Because of their constantly being outdoors and subjected to all types of weather, fences can fall into decline very swiftly if not kept maintained. As is frequently the case, if a fence isn't correctly maintained, it will likely begin to rot and become more vulnerable to damage from the elements. Be aware that this type of coverage does not include wear and tear, so damage that is caused by slack maintenance will not be covered.
Storm Damage
It doesn't matter if it was a hurricane or a violent windstorm that destroyed or damaged your fence, wind-related damage is covered by your homeowners insurance. So in the event that your fence is destroyed or damaged by a storm, you will find that you are covered up to your insurance policy's other structures limit.
Fallen Tree
Should a tree or trees fall on your fence as the result of a covered loss, such as a windstorm, your homeowners insurance will usually help cover the expense of replacing or repairing it, up to the other structures limit of your policy. Plus, your insurance will further cover the cost of removing the tree so that the fence can be replaced or repaired.
There is one problem you face though, and that is that if the tree that falls doesn't damage a covered building, you may not receive any help toward the cost for removal or damages from your homeowners insurance.
Insurance Claims For Fences
If your fence is destroyed or damaged and you proceed to file a claim, you will need to complete these steps:
Completely and thoroughly document the damage with exact details of how it happened.
Do not move or clean up the damage no matter how tempting, unless you feel you need to do so for the sake of safety.
Supply several photos of the damage and, if you can, photos of the fence as it was before it was damaged.
Nothing is ever smooth sailing when it comes to dealing with insurance companies and filing a claim, but if you are at least aware of the limits of your fence coverage under your homeowners insurance policy, and the options you've chosen to enhance your coverage, then you will be better prepared to handle the situation.