Fires represent some of the most damaging situations that a homeowner can face. Not only is the fire itself destructive, but the smoke released from even a mild fire can compromise the integrity of the house, and damage many aspects of its interior. If your house catches fire, and that fire spreads to a neighbor's house, what can you expect your homeowner insurance to cover? Homeowners insurance covers most instances of fire damage to your own property. Your insurance will also cover legal fees associated with a neighbor suing you if their house is damaged or burned down. Chances are, your neighbor also has homeowner insurance, so they will also have fire protection, meaning that their insurance may try to seek compensation from you.
Home Insurance Coverage Depends on the Perils
Your home insurance considers coverage based on the causes of damage – also known as the peril. A peril is any event that can damage your property. The specifics of whether or not a peril is covered depend on your specific policy. Most modern homeowner insurance policies will split perils into two categories – named and unnamed – with named perils being ones that are explicitly mentioned as being uncovered, while every other peril is covered.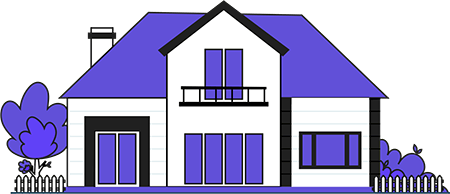 Compare Home Insurance Quotes
Save on your homeowners insurance premium by comparing offers from the best providers in your neighborhood.
When it comes to general fire damage, you can expect it to be covered. This, in particular, covers accidental fires, fires caused by things like broken wiring, lightning strikes, and even fires started by cigarettes. Your home insurance will typically exclude fires related to arson, and forest fires depending on the location of your property. 
When It Comes to Fire Spread, Your Insurance May Not Be Enough
Your insurance might cover you if your fire spreads to your neighbor's house, but not in the way you think. If your neighbor files a suit against you, or if their insurance company does so on their behalf, you can be held liable for the costs if the fire occurred due to negligence on your part. In such a situation, your homeowners insurance will help cover the legal costs associated with such a suit, although depending on the extent of damage to your neighbor, it is unlikely that your standard policy will be able to cover that cost in its entirety.
The part of your insurance which covers legal fees associated with lawsuits is known as personal liability protection, and it exists specifically for these kinds of situations. Whenever someone files a lawsuit against you or requires that you compensate them (e.g. for damaged property, or medical bills), your personal liability protection will help cover the costs, typically up to a particular amount.
When it comes to a neighbor's house, however, the costs from the house alone are very likely to exceed what your insurance policy will pay out. To combat this type of situation, insurance companies offer what is known as personal umbrella insurance which supplements personal liability protection and will cover higher costs. The limit on these costs can vary, depending on what you decide with your insurance.
The Best Thing You Can Do Is Be Proactive and Avoid Starting Fires
The cheapest option of all, of course, is to avoid setting your house on fire. There are lots of precautions one can take to avoid house fires or to stop them before they get out of control. Never leave an operating stove unattended, nor should you ever leave candles unattended. You should make sure all of your smoke alarms are working by regularly testing them, and you should also keep lawn clippings or other extremely flammable items in places away from fires. It's also a good idea to regularly verify the integrity of the wiring of your appliances throughout your house.
Sometimes, mistakes happen and fires get set – in cases like these, it's important to have a fire extinguisher handy. You should only use a fire extinguisher if you are confident in the source of the fire, as different types of fires may require different types of extinguishers. If a fire extinguisher isn't working, or if you are failing to extinguish the fire, evacuate the members of your household immediately and call emergency services as soon as possible so that they can get a handle on it. Being prepared is the best thing you can do for these types of situations.
Also Read: