Few things are as scary as wildfire. Destructive, uncontrollable, long-lived and spread over a wide area. You couldn't ask for the worst sort of disaster. If your house is damaged or burns down due to a forest fire, you're in luck: your homeowners insurance is likely to cover damage from a forest fire, although certain areas prone to regular forest fires may not be covered. In general, fires are thoroughly covered by homeowners insurance, both when it comes to your dwelling, other structures on your property, or your personal belongings. The only exceptions are fires that are started with the intention of destroying your property, whether by someone in your household or by a vandal. Otherwise, as long as it isn't arson, you can expect your home insurance to cover the fire.
Home Insurance Will Cover Any Fire as Long as It's a Covered Peril
A peril is an event that can cause damage to your property, such as windstorms, infestations, earthquakes, or even theft. Not all perils are created equal, however: your insurance will only cover certain perils while leaving other perils uncovered. With most modern insurance policies, you can expect all perils to be covered, except for an explicit list of uncovered perils.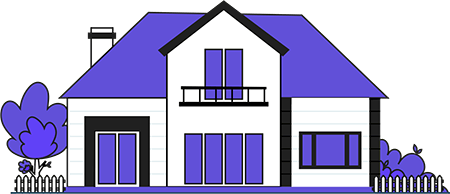 Compare Home Insurance Quotes
Save on your homeowners insurance premium by comparing offers from the best providers in your neighborhood.
There are two major factors in determining whether a peril is uncovered. The first factor is whether or not the peril could have been avoided by the homeowner. For example, infestations are often uncovered, because infestations almost only occur due to neglect on the part of the homeowner, by refusing to keep an orderly space, not having routine inspections, not regularly applying pesticides, and the like. Similarly, your insurance won't cover things that break due to wear and tear, or damage as a result of not replacing old parts of your home, such as old wiring or old pipes. The second factor is the scale of the peril. You'll often find events like earthquakes or flooding to be uncovered on standard insurance policies, and this is due to how wide-reaching this type of damage tends to be, which would bankrupt an insurance company due to the volume of claims they would receive.
Despite this, forest fires are typically covered, because fires are generally covered so long as the fire isn't related to an act of arson. However, in areas that are impacted regularly by forest fires, you might find that such perils are excluded. You also find, however, that some jurisdictions will require insurance companies to cover such events. Coverage can be variable, so it's good to check your insurance policy and make sure that your property will be covered in the event of a forest fire.
Also Read: Does Home Insurance Cover Wildfires in California?
The Amount of Insurance Coverage Will Depend on the Policy
If your house does suffer fire damage, or if the entire structure is burnt down and needs replacing, how much of that your insurance will cover depends on what kind of replacement cost you chose while negotiating your policy. Replacement cost refers to the way the home value will be calculated in the event of damage or destruction. There are four common values used: replacement cost value, extended replacement cost value, guaranteed replacement cost value, and actual cash value.
Don't be intimidated by the jargon, these are all fairly straightforward. Replacement cost value refers to the typical cost of rebuilding your home under normal circumstances, and is the most common replacement cost found on insurance policies. Extended replacement cost is the same as replacement cost, plus an additional percentage of the replacement cost value. This is negotiated, and typically falls somewhere between 10% and 50%. Guaranteed replacement cost means that it will cover the cost of rebuilding, no matter what the cost is when the claim is made, and actual cash value is the cost of your home at the time it was built, minus depreciation (the total cost of house degradation due to age). While some of these differences might seem dubious, they are relevant in the case of something like a wildfire: if a lot of homes in your area get destroyed, then the cost of construction and materials will likely rise, which will mean that even using replacement cost value or extended replacement cost value, you might still have to foot part of the bill if there is a large area of damage.
Also Read: Does Home Insurance Cover Fires Caused By Cigarettes?