When you are in the process of obtaining homeowners insurance, you should always carefully read over the exact coverage before you sign. Determine for certain that everything is covered, and that includes your garage door. Usually, in homeowners insurance policies, garage doors are indeed part of the coverage you receive, so there shouldn't be any problem with that.
What You Need to Know
Due to the fact that garage doors and openers are attached to the house, they are looked upon as part of the "dwelling" by your homeowners insurance, which includes loss resulting from physical breakage, and are thus covered. However, this is not the same as mechanical failure or normal deterioration. Coverage is also provided for your garage door if damage occurs from fire, wind, hail, vandalism, or one of the covered perils.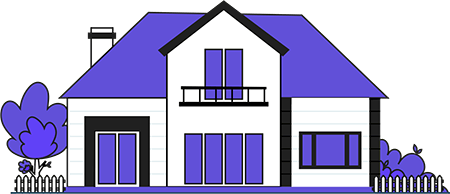 Compare Home Insurance Quotes
Save on your homeowners insurance premium by comparing offers from the best providers in your neighborhood.
What you need to do is to read your policy carefully and find out precisely what the coverage is. Ordinarily, your insurance company will cover any type of damage that you or a member of your family inflict on the garage door. If there is a third party who is responsible for the damage, for example, if your friend or neighbor accidentally ran into your garage door, then that individual's auto insurance policy will cover the cost for repair or replacement.
Be aware, however, that intentional damage to your garage door is frequently not covered, and this also comprises certain natural disasters like a flood or earthquake. Furthermore, if you have a detached garage door, you should look into whether or not it is covered.
Filing a Claim
The difficulty of filing a claim on your homeowners insurance for a damaged garage door or its replacement can be either great or small. It all depends on the type of insurance that you have, and the insurance company you choose.
There is no question that you will need to submit documentation pertaining to your claim. The type of documentation that is required may vary according to exactly what has occurred.
In the case where your claim pertains to a crime such as arson or vandalism, you will be required to file a police report as well. In some instances, this may also be true if your claim pertains to a vehicle accidentally crashing into your garage door. Yet in certain other cases, your insurance agency may require receipts for repairs that have been made or it may send an adjuster out to assess the damage and determine the cost of repairing it.
Garage Door Replacement
When it comes to just repairing your garage door, most basic homeowners insurance will cover garage door repair. In the event that you need a total replacement of your garage door, this will depend upon whether the cost of repairing the damages would surpass that of getting a new garage door. Then your insurance company will cover the full replacement.
Also, if your insurance agency determines that your garage door can be repaired, but you still want an entirely new door, you will probably have to pay for it yourself.
Is It Worthwhile to Claim Garage Door Damage On Homeowners Insurance?
Garage doors do go through a lot. Besides normal wear and tear due to weather issues, there's also the constant stress of being lifted up and down. It's your duty to safeguard your property and that includes your garage. A garage door that is of good quality should last about 10-15 years under normal circumstances.
During this time, it's very likely that you will have to have your garage door repaired at least once. Perhaps your children and their friends play basketball right next to it, or hockey right in front of it. It could also be damaged by severe weather.
But it's up to you to determine if it's worth filing a claim to begin with. One such instance would be if you have a $500 deductible and the amount of damage costs $600 you might want to forget about claiming this damage. You will be out of $500 no matter what, so why not just pay it off yourself?
However, if the damage is $1,000 or more, then it's obviously very much worth claiming since your insurance will cover most of the expense.
Cost of Replacement
On average, it costs somewhere around $1,120 to replace a garage door, however, the cost can vary between much lower to much higher. This depends on things like the difficulty of installing the garage door, and whether it's a manual or automatic door. Don't ever forget about your deductible either. Know when you're making the decision to replace the garage door that your insurance will not cover the entire cost.
What's to be learned here is that if you or a family member accidentally damage the garage door while pulling into or backing out of the garage and it has to be replaced, it will likely be covered by your home insurance, as will instances of severe weather damage, fire, theft, hurricane, tornado, a lightning strike, etc. But if the damage to your garage door is due to you having neglected its upkeep, you will most definitely not be covered under your insurance.
Moreover, you are not automatically guaranteed that your insurance agency will replace the entire door if it is damaged. They may very well decide that it can be repaired, and that will be that. Carefully reading over your homeowners insurance policy is always a smart thing to do so that you can avoid any unpleasant surprises when disasters occur.