As a general rule, homeowners insurance does not cover the expense of repairing your gutters. If they are missing, falling down, or damaged in some other way, your standard insurance policy will probably not provide coverage. The reason for this is that most of the problems that arise with gutters are related to upkeep. Thus, it is the homeowner's responsibility to adequately maintain their gutters. This also comprises cleaning them and making certain they align. It further means replacing broking sections.
Some of the situations in which homeowners insurance can be of assistance are: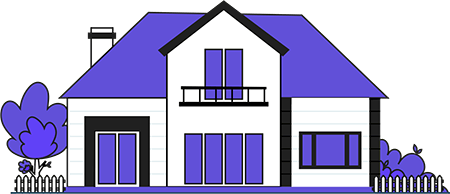 Compare Home Insurance Quotes
Save on your homeowners insurance premium by comparing offers from the best providers in your neighborhood.
A windstorm caused the gutters to fall down.
The gutters were damaged as a result of the roof catching on fire.
Hail caused the gutters to sustain extensive damage.
The gutters were damaged by a falling tree branch.
In these instances, you may be covered by your homeowners insurance. However, never assume anything. Discuss the matter with your insurance agent to find out exactly what kind of protection is obtainable for you.
Reasons For Claims Being Denied
In the below cases, most insurance policies will not give you coverage:
The home is damaged due to water that is unable to run away from the roof. An instance of this would be, leaves that back up in the gutters. This forces the water to form a pool and also leads to mold forming on the roof. It is your duty as the owner of the home to have the gutters cleaned by a professional, or attempt to do it yourself if you think you can. 
The gutters have either come loose or are not secured to the home any longer. Drooping gutters can easily be prevented, and you remember the saying an ounce of prevention is worth a pound of cure. Besides which, this is not a very expensive problem to deal with, especially if you take action when you notice the first signs of trouble.
Vermin or insects damage the gutters or the roof due to gaining access to the gutters.
In the case of ice dams forming on the roof. Frequently, this is the result of gutters that have not been properly maintained. 
Being a home owner involves work and dedication. You have to be aware of many things and make sure that they are taken care of. Insurance companies don't play games, and they won't hesitate to cut you off if they feel that the situation merits it, so follow the rules and do your part.
Intentional Loss
This one merits special discussion. It means what it sounds like it does. Your homeowners insurance won't reimburse you for poor workmanship or damage which is done on purpose. Regardless of good intentions, this also includes if you attempt to replace, repair or install your gutters and do a lousy job. Nor will you be covered if you hired a gutter installation company that employed faulty materials. Insurance companies are very strict about things like this so there will be no way of getting around it should problems develop.
Deductibles
Also, don't forget about deductibles. Nearly all homeowners insurance policies contain a deductible. This is how much it is your responsibility to pay for any covered event prior to your homeowners insurance taking over and paying for the rest. What this comes down to is the following. If you have a deductible of $1,000 and the amount to repair your gutters even after a covered event is $750, you will be responsible for paying the total amount, because the cost is less than what your deductible is.
Essentially, the higher your deductible is, the lower your insurance premium will be. Consider the difference between exactly what you can manage to pay if a covered event occurs against how much you can save on your premium to settle upon the ideal deductible for you.
Although the majority of states do not have any legal requirement that forces you to purchase homeowner's insurance, if you have a mortgage then your lender might require it. Having a solid homeowners insurance policy is the sensible thing to do. However, it is not a guarantee that you will be covered for any type of gutter damage.
Know that as a homeowner it is your responsibility to thoroughly read and comprehend the insurance policy you have on your house, and to be aware of how the upkeep of your house, or lack thereof,  can affect not only your policy but your home too.