Ordinarily, a centralized air conditioning unit will be covered by your homeowners insurance. But what about other parts of your HVAC system. Will your homeowners insurance repair or replace a heating unit like a heat pump if it has sustained damage?
Heat Pumps
A heat pump is a high-powered machine that supplies both heating and cooling to your home. It can remain operational all year long doing its job of keeping your home cool during the summer and warm in the winter. It is one of the most advantageous add-on features to an existing gas furnace and particularly comes in handy in areas where the winters can be exceptionally cold.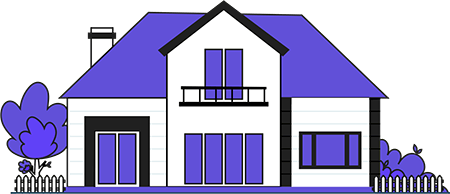 Compare Home Insurance Quotes
Save on your homeowners insurance premium by comparing offers from the best providers in your neighborhood.
Because a heat pump harnesses the cool air outside for summer and the warm air from outside for the winter, it is normally installed outside of the home. This leaves the heat pump open to weather damage, as well as damage resulting from falling trees or branches, and lightning.
Is Your Heat Pump Covered By Your Homeowners Insurance?
Most basic homeowners insurance policies will cover the HVAC system if it suffers damage due to a covered peril. Because the heat pump is a central part of your HVAC system, being covered for damage resulting from covered perils should be all the protection you need. Some of the common perils that your average homeowners insurance policy will usually provide protection for your heat pump from are:
Fire or lightning strike
Hail or windstorm
Theft (but this usually comes with a limited liability of up to $1,000)
Vandalism
Vehicle damage (Unless you are the one who caused the damage)
Aircraft damage
Falling objects
Weight damage caused by snow, ice, or sleet
Freezing of household systems
There are also more. Essentially, your HVAC system which includes parts of your heating system (like the heat pump) will be covered in instances of fallen objects, strong winds, or theft.
When Isn't Damage to Your Heat Pump Covered?
A basic homeowners insurance agency will refuse to cover damage occurring to your heat pump if it should stop working as a result of normal wearing down or lack of maintenance. This is why if your heating unit ceased operating after 20 years of use, your insurance company will likely reject your claim. Furthermore, if your new heat pump was dropped during the process of being installed, it will not be covered by your insurance policy under these circumstances.
Damage caused by earthquakes or flooding is not covered either unless you purchased an additional option. Normally, homeowners insurance will not provide protection in the instance of a flood, earthquake, or water damage. If you happen to live in an area where these problems could occur, then be sure that you obtain additional coverage.
You should also keep in mind that if you are using a heat pump to keep your home from freezing over in an area that receives lots of snow, you are leaving your machine vulnerable to snow and water damage. Be sure you obtain water damage coverage to protect your property.
Finally, cosmetic damage is also not covered so if you reside in a location where hailstorms are a routine occurrence, you should give careful thought to what add-ons are required for you to have full coverage.
Advice On Filing HVAC Claims
If you intend to file a claim on your homeowners insurance for your heat pump which has sustained damage, or other parts of your HVAC system, you must have the right papers and information available. This includes recording the model and serial numbers of your heat pump. You should also take photographs of any obvious damage and ask for a copy of the police report if a crime such as theft or vandalism has taken place.
Now that you have collected everything that you require you can call your insurance agent. They will ask you for information like how your heat pump was damaged and you will need to talk with them about the full extent of the policy's coverage. Afterwards, they will probably send an insurance adjustor or inspector out to your home to view the damage and assess the cost of repairing or replacing the unit.
Now you know that your home insurance will repair or replace your heat pump if the damage it has suffered is caused by one of the perils listed in your policy. However, if a peril is not listed, then you will likely not receive coverage. Nor will you receive reimbursement if the damage to your heat pump is caused by your failure to maintain it properly. Also, cosmetic damage is not covered. So when it comes to your homeowners insurance and your heat pump, it is important that you do a complete and through job of reading the policy and learning about the coverage it provides.