It is no secret that living in an HOA neighborhood has its perks, with one of the main ones being well-kept common areas and access to amenities. There are a variety of costs associated with living in an HOA community, and assessment fees are a prime example. While assessment fees may be expensive, you may receive compensation from your homwoeners insurance under your loss assessment coverage.
What Is HOA?
HOA stands for Homeowners Association, which is a collective of people living in a community that self-governs certain things regarding their neighborhood. The goals of these associations are to manage any shared properties, enforce community rules, and manage the maintenance and upkeep of the community.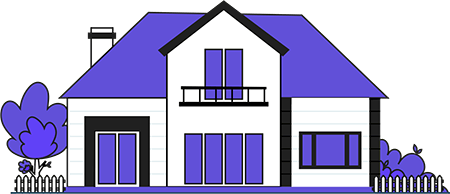 Compare Home Insurance Quotes
Save on your homeowners insurance premium by comparing offers from the best providers in your neighborhood.
In order to function effectively, the HOA collects a fee from each household. The fee is normally collected on a monthly or annual basis and this goes towards making the neighborhood or community better. HOA fees do not go away even if you own your home. The money from these fees is collected and held in a reserve for the neighborhood. The board members of the HOA decide how and where to spend this money.
Common uses of this reserve include:
Infrastructure projects
Sidewalks and pavement
Parking structures
HOA Assessments
In addition to any routine HOA fees, those living in an HOA neighborhood may also be subject to special assessments. These are extra and unusual fees that are not planned for, but normally arise if there was an emergency or accident in the neighborhood. Assessment fees can also kick in when the reserve of normal HOA fees is low.
The unfortunate thing about emergencies is that they are not only unplanned, but they can also be very expensive. If your neighborhood has damages to any units or shared spaces such as a community center or shared parking spaces, assessment fees will respond to any of these damages. This can be very expensive for people living in a residence that has an HOA.
The cost of HOA assessments varies, but it is not unrealistic for assessments to range in cost of several thousand dollars. If the total amount that is needed is large, the HOA may determine that residents can pay in installments over a set period of time.
Loss Assessment Coverage
HOA assessments are unplanned and are often expensive because the goal of them is to respond to an emergency, expand infrastructure, or respond to previous costs and demands of the neighborhood. Home insurance companies understand that this expense in addition to your normal rent, utilities, HOA fees, and other expenses can be overwhelming. While not all homeowners policies include loss assessment coverage, this clause can help you pay for any assessment costs brought on by your HOA.
After submitting your claim and paying your deductible, your policy will cover the cost of the assessment up to your maximum amount of coverage under the loss assessment coverage clause. This amount is normally a lower amount, but this amount of coverage can be expanded on.
Avoiding Assessments
While emergencies are certainly unplanned, there are ways to lessen the financial blow that comes with HOA assessments. These suggestions mainly apply to those on the HOA board, but everyone living in an HOA community should be aware of how to make their community a better place.
Be realistic with any and all budgets: If you are on the HOA board, consider the costs that you have had in the past and the ones you expect for the future. If your HOA decides to build a new community center, put that cost into the annual HOA fees and not add on spontaneously to assessment fees.
Have a reserve: Relying on a collection of money only works if there is an actual reserve of money to draw from. Don't overspend on things the community does not need or want.
Communication. While those who live in an HOA are proud of their community, they are also thankful for not having to hand out an unexpected several thousand dollars. Those on the HOA board should listen to the members of its community and those not on the board should still play an active role in the area they live in.
Also Read: