For most of us, we take pride in keeping our homes in good shape, making sure we clean up as best we can. For a hoarder though, this is not the case, and cleaning up from hoarding can be a difficult and expensive undertaking. If you're in a situation where you need to clean up a home that has been the site of hoarding, you may be wondering if homeowners insurance provides any type of hoarding cleanup coverage. Unfortunately, the answer to this question is that most home insurance policies do not cover hoarding cleanup for a number of reasons.
Why Hoarding Cleanup Isn't Covered
Because of the nature of hoarding, it is difficult for individuals that suffer from this disorder to obtain proper insurance coverage. This is due to a couple of specific reasons.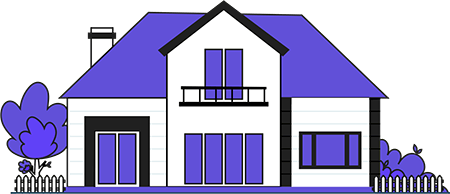 Compare Home Insurance Quotes
Save on your homeowners insurance premium by comparing offers from the best providers in your neighborhood.
Firstly, it is difficult for an insurance adjuster to properly assess the value of the home and the belongings inside due to the state of the home as a result of the hoarding. Secondly, hoarders often neglect their homes, and spaces are no longer used for their intended purpose instead becoming space for collecting more items. This is a problem for homeowners insurance because spaces in the home are meant to be used for their intended purpose and homeowners have a duty to do so to prevent possible violations and injuries.
Other Coverage Issues
Besides not covering hoarder cleanup there are other issues that hoarders can have with their homeowners insurance.
For instance, if the insurance company finds that the property is dangerous or uninhabitable due to the hoarding they will likely first issue warnings to the property owner before eventually canceling all coverage. Most insurance policies have a stipulation in them that states that the holder of the policy must do everything in their power to keep the premises safe and secure and free of potential liabilities. The more risk there is on a property due to the hoarding the less likely that an insurance company is to provide coverage, particularly if they can't discover the full scope of the situation.
Another issue that homeowners with hoarding problems face is the lack of coverage for damage caused by the hoarding. While there is no particular coverage for hoarding clean-up, a person may also face difficulty if they file a claim for damage related to the hoarding. Water damage, mold, and other problems which may typically be covered under homeowners insurance policies may not be covered during a hoarding situation. This is because the home insurance company likely will see the situation as negligence on the part of the homeowner and therefore refuse to cover the damage.
As we discussed, homeowners have a duty to minimize the risk of damage to the home by doing what they can in order for a claim to be valid.
What To Do in a Hoarding Situation
While it is difficult to determine how much coverage a person who is hoarding may have or if their coverage is canceled or not the first step to take if you're cleaning out a home that has undergone hoarding is to hire a professional cleaning company to remove all of the excess garbage and clean the home as best as possible.
In cases where insurance coverage is still held this may allow the insurance company to reassess the home and provide coverage for some of the damage that was caused due to the hoarding. If you believe this is a potential issue for your home or the home of someone you know, it is best to speak with an insurance agent and find out what iPhones are available to protect the home.