There's nothing quite like the sensation of sliding into your hot tub after a long and difficult day at work and feeling your muscles breathe a sigh of relief. Suddenly all is right with the world. But with all the pleasures that come with owning a hot tub, there are also responsibilities and one of them is insurance. This leads you to the question, does homeowners insurance cover hot tubs?
In short, yes homeowners insurance usually covers hot tubs. So don't be slack about getting it. The problem most insurance companies have with insuring hot tubs is that they are regarded as attractive nuisances, and not all providers will cover them.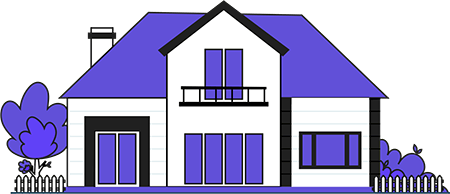 Compare Home Insurance Quotes
Save on your homeowners insurance premium by comparing offers from the best providers in your neighborhood.
What Does Homeowners Insurance for Your Hot Tub Mean?
Acquiring homeowners insurance for your hot tub means that you will have liability coverage should a guest become injured in or near the hot tub. You will likely also be covered in the case where the tub gets damaged, but the manner in which your insurer reimburses you is different for each provider.
Liability Coverage
Although most people don't consider hot tubs as potentially dangerous, in fact, they are. The unfortunate truth is that injuries, some quite serious, and accidental drownings occur annually. Here's a statistic that might shock you: The Consumer Product Safety Commission states that from 2016 through 2018 there were about 6,600 pool or spa-related not fatal drowning injuries each year. Injuries serious enough to require emergency room treatment. Moreover, 2014 through 2016 saw 363 pool or spa-related drownings with children under 15.
So what this all boils down to is that if your home has a hot tub, it carries a larger risk for an insurance company than if your home is without one.
What Exactly Does Liability Coverage Do?
To sum it up, liability insurance protects you in the event that someone receives accidental injuries while on your property, including any relating to your hot tub. For example, if a visitor slipped in a puddle of water from your jacuzzi, your homeowners insurance would cover any medical expenses they incur and also any legal fees in case they sue you. Also, this protection extends to if someone should drown in your hot tub.
What is the Cost of Homeowners Insurance For a Hot Tub?
When dealing with a general homeowners insurance policy, liability limits normally begin around $100,000 per claim. However, in the case where you own a hot tub, your insurance company is apt to suggest that you get more coverage, they may even require it. Expenses resulting from an injury can quickly add up, and your insurance agent may request that you obtain as much as $500,000 or greater in liability coverage in order to stay insured.
Personal Property Coverage
Often it's the case that the hot tub is detached and separate from the home itself. Perhaps it will come in a box, or it may be assembled in your backyard as what is called a self-contained unit without having to be connected to your house in any way. Should this be how your hot tub is set up it may be covered in your home insurance policy under personal property coverage.
Personal property limits will differ considering how many possessions you actually have. If needed, reimbursement for any damage to your hot tub would be covered under this amount if your insurance company labels it personal property.
One thing you should know, however, is that insurance agencies handle damage to a hot tub in various ways. The amount of money you can receive relies upon how your insurance company classifies what is called a home spa under your coverage.
What Exactly Is Other Structures Coverage?
It works like this. Certain hot tubs are connected to your home in different ways. One method is to install them as part of an attached deck or they can be wired directly into a home's electrical panel or utility lines. In these instances, your insurance company may decide your jacuzzi is an other structure of your property.
Other structures have limits that generally are about 10% of your home's dwelling value. It all comes down to this. If you have $300,000 worth of dwelling coverage on your home, you will likely be capped at $30,000 worth of other structures coverage. Should your hot tub suffer damage it would come in under this cap.
Things to Consider About Other Structures Coverage
Some things you should be aware of concerning other structures are:
1. Will reimbursement be for the replacement cost of your hot tub or its cash value? — Since personal property is routinely covered by replacement cost, this leaves you with around what you paid for a possession if it was damaged.
Certain insurance agencies will only offer the option of covering other structures according to cash value. By doing it this way they place you at a disadvantage because depreciation is factored into the payout you get, thus reducing the amount you get in compensation according to the age of the hot tub .
2. Check and make sure that your hot tub is actually covered.— If you don't want any nasty surprises you should ask your agent whether or not your hot tub is covered. There are certain insurance agencies that make you get an additional endorsement before they will cover your hot tub.
Once you are assured that it is indeed covered, your hot tub should be protected from the same dangers listed on your policy that your home and belongings are covered from. Things like fire, storm damage, and even fallen trees, regardless of whether or not it's counted as a part of your home or as your personal property.
Ultimately, one way or another you will be able to get insurance coverage for your hot tub under your homeowners insurance policy. There are various options available and you will need to ask some questions, but it is absolutely doable. So don't worry, your expensive hot tub will be protected.