Homeowners insurance policies cover HVAC replacement or repair only if the equipment sustained damage from a covered event. Commonly covered events include storms, fires, and burglary. HVAC repairs due to aging, wear and tear, and maintenance neglect remain the homeowner's responsibility.
When Does Homeowners Insurance Cover HVAC Systems?
HVAC systems cost a small fortune to repair, so you probably want to know if your insurance offers coverage. When it comes to your climate control system, coverage from your insurance depends on the reason it failed.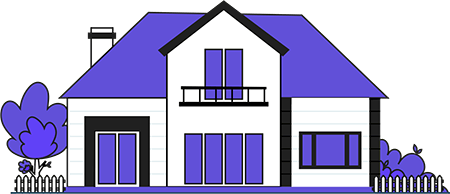 Compare Home Insurance Quotes
Save on your homeowners insurance premium by comparing offers from the best providers in your neighborhood.
Standard homeowners insurance policies pay for heating, ventilation, and air conditioning systems when they suffer impact from covered perils. Insurance companies are very specific as to what events qualify for this category. Generally, they include fires, storms, tornadoes, and human malfeasances, such as vandalism or burglary.
For example, should your house burn down, the cost of a new HVAC unit placed during the reconstruction is covered. The same holds true if a tornado levels your dwelling. Likewise, the repair is covered if a fire or weather event partially damages your home, including your HVAC system.
The type of HVAC system may impact under which clause your heating and air conditioning equipment receives coverage. For example, a central HVAC system is part of your dwelling insurance, which covers your home's structure. A window air conditioner, however, would fall under the personal belongings section of your policy.
When Does Home Insurance Not Cover HVAC Repairs?
Homeowners insurance policies exclude HVAC repair or replacement when the need is generated by normal, foreseeable circumstances. Unfortunately, no HVAC equipment lasts forever. Over time, parts must be replaced as they wear out, as they must be in vehicles. As your car insurance provides no coverage for routine parts replacement, your homeowners insurance offers no coverage for your climate control system's regular wear and tear.
In addition, your homeowners insurance policy provides no coverage for repairs or replacements needed due to neglect. Though most cases of neglect fall under wear and tear, it is possible that your system suffered damage from a covered event, such as a storm, but also had parts undamaged by the tempest but in need of replacement due to neglect. Your insurance would not cover that part of the repair.
Over time, HVAC systems must be replaced. Homeowners can expect this and need to plan for the replacement as they would a used vehicle. Replacement due to age is not a covered peril.
Homeowners policies also contain specific exclusions, which apply to all replacements and repairs. Floods and earthquakes are two of the most common exclusions. However, you can purchase separate policies for these events.
Home Warranties and Equipment Breakdown Coverage
Though mechanical breakdowns are ineligible for coverage under a homeowners policy, you may obtain some relief for HVAC repair or replacement under a home warranty. As with a vehicle warranty, these warranties cover regular breakdowns rather than casualty events. Some home warranty programs cover only certain types of repairs, while others include coverage for any HVAC work deemed necessary by the warranty company.
HVAC systems are critically important parts of our homes. Usually, they hum along without any problems. However, when they malfunction, they can leave you in dire straits with a choice between freezing temperatures or stifling heat and a considerable repair bill.
Homeowners insurance will pay for HVAC repair and replacement when it occurs due to a covered peril; however, typical mechanical failings are excluded. In those cases, you may receive benefits from a home warranty. If not, you must cover the costs on your own.