Before we answer the above question, there are understandably many people out there who are unsure of precisely what an ice dam is. Here's an explanation for you: It is a ridge of snow and ice that starts developing on the edge of your roof and keeps the snow from sliding off. As the snow melts, the water has nowhere to go and just sits there, potentially causing damage to your roof or in worst case scenario, actually oozing into your home and destroying or damaging your possessions. While this is a possible risk that can be avoided, the question here is are you covered if it happens?
Well, you can breathe a sigh of relief because in general, the average homeowners insurance policy will protect your home should it suffer any structural damage due to the creation of an ice dam. The situation is akin to that of having a tree fall on your home. Since it's an exterior risk that resulted in the damage to your property, your insurance agency should cover the cost of repairs.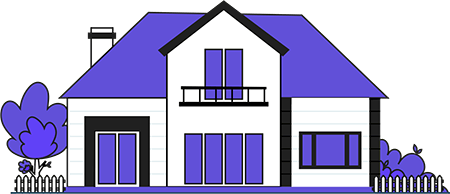 Compare Home Insurance Quotes
Save on your homeowners insurance premium by comparing offers from the best providers in your neighborhood.
There are certain exceptions to this basic rule, and you need to carefully read your policy and talk about this with your agent before signing on. Otherwise, you could be left with a severely damaged interior of your home and your insurance company refusing to pay for the necessary repairs. Ordinarily, any detached buildings such as a garage or shed will not be covered under the umbrella of your dwelling coverage and will require an entirely separate policy in order to protect them from ice dam damage.
Coverage For Interior Damage
Ordinarily, if melting snow from an ice dam gets into a crevice or a vent in your roof and leads to your home suffering interior damage, your insurance agency will cover the expense of making repairs. That's if your floors or walls are damaged, but when it comes to personal items and even furniture, they may not.
Usually your insurance will indeed cover your dwelling and your possessions. However, you should be absolutely certain about what your policy does and doesn't cover. It could be the case that you are required to get separate insurance that specifically covers the contents of your home. Read over your policy carefully to find out if you have coverage for your dwelling and your contents should your home sustain ice dam and other water incurred damages.
Owner Responsibility
Remember that as is the case with all potential damages and risks concerning your home, you must do your part to prevent them from happening. It is your responsibility to properly maintain your home and keep any destructive issues from taking place. In the event that your insurance company should find that any damages which are the result of an ice dam could have been avoided by the exercise of correct maintenance, then you may not actually be covered for any of the necessary repairs.
Ice Dam Removal
Yet another concern is whether or not your insurance covers the cost of having ice dams removed from your roof?
The answer to this is it depends. Certain insurance agencies will indeed cover the cost of having the part of the ice dam that is responsible for the damage to your roof removed. Yet other companies state that you are responsible for the cost because it is a part of your upkeep duties. However, they may still pay for damages that occur as a result of the ice dam.
While it is not unheard of for an insurance company to cover the cost of removing the dam as a way of keeping any damages from happening, these instances are rare.
As the saying goes, an ounce of prevention is worth a pound of cure, and this certainly can be applied to this situation. Keeping ice dams from forming to begin with is the ideal method to protect yourself from the possible expense of repairs. After all, isn't it always best to keep a problem from occurring in the first place? Furthermore, removing ice dams promptly when they first start to form is a must.
Both of these steps are well worth taking if you want to save yourself and your family from chaos and possible unexpected financial costs.
Also Read: Does Homeowners Insurance Cover Roof Leaks from Ice Dams?