It's not unusual for many homeowners to invest a considerable amount of time and money into their landscaping planting an array of colorful flowers, laying mulch, and trimming shrubbery. All of this is very worthwhile as it creates a visually striking and delightfully attractive home. But after putting all of this work and effort into a landscaping project, people often find themselves pondering if their homeowners insurance covers landscaping, and if it does, just how and what this coverage includes.
Well, when it comes to landscaping and gardens your homeowners insurance will provide protection for your landscape, garden, and all supplies against damage, theft, or complete loss.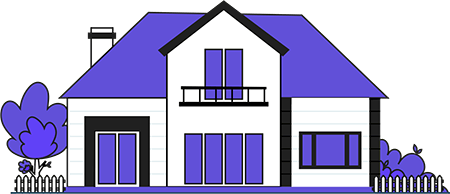 Compare Home Insurance Quotes
Save on your homeowners insurance premium by comparing offers from the best providers in your neighborhood.
What Types of Damage Does Homeowners Insurance Cover for Landscaping?
One of the valuable things about homeowners insurance is that it can actually provide protection for your landscaping for several covered perils. This comprises damage to your yard, shrubs, plants, trees, surrounding structures, and even the tools you use to create and maintain your garden or landscaped area.
What exactly are covered perils? They encompass things like vandalism, theft, lightning, and fire as well as any damage caused by natural disasters for example a hurricane or tornado. What this coverage further means is that if you have a rare and expensive plant that gets stolen, your homeowners insurance should actually cover the cost of replacing it. If your landscaping or garden should be damaged by vandals who cause destruction, you will be covered. Even if a fire starts in your home and then extends to your landscape, you will be covered.
Dwelling Coverage for Landscaping
So if damage to your landscape or garden was the result of a covered peril, then the expense necessary to rebuild or replace them would be covered under the dwelling coverage part of your homeowners insurance policy.
While they are generally willing to help you out, homeowners insurance agencies do limit the amount they will pay for claims pertaining to landscapes and gardens, which is usually capped at 5% of your total dwelling coverage.
Furthermore, insurance companies are inclined to cap a single removal or replacement of a shrub or tree at $500 to $1,000. This normally works out like this. If a shrub or tree was downed, $500 to $1,000 can be used to remove it, and $500 to $1,000 can also be used to replace it.
Besides trees, plants, and shrubs, structures that surround your garden or landscape are covered under damage or loss resulting from a covered peril. For instance, say you own costly potters that were cracked by the force of hurricane winds, your insurance would cover these too in most cases.
You need to keep in mind, however, that there are various conditions concerning these claims in your policy. For one thing, you must pay a deductible and then your insurance will pay off the rest of the cost. As a result, if your deductible is $500 and repairing the landscape is $1,000, you might want to pay out of pocket rather than filing a claim. This will help keep the number of claims you have on file low and also keep your premiums lower.
Now, if your neighbor's tree is the cause of your damaged landscape, relax because you're covered for that too. It's possible that your homeowners insurance agency may try and collect from your neighbor's insurance by a process called subrogation, which is a method used to recover debt for damage.
Personal Property Coverage for Landscaping
Perhaps you have had some tools or equipment that you use for your garden or landscaping work stolen or damaged. Well, rest easy, because these are also covered. Under normal circumstances, personal property coverage is limited to 50% to 75% of your dwelling coverage, but remember that you only require as much coverage as your possessions are actually worth.
If you are looking for an easy method of determining precisely how much coverage you require, simply make a contents list that states what you own and the amount you paid for it. Many items such as trimmers, gardening tools, and even lawnmowers are covered by the personal property part of your insurance policy.
Under your personal property coverage terms you will be reimbursed for either the cash value or the replacement cost of the item. Replacement cost coverage will reimburse you for exactly the amount you paid for something, while actual cash value takes depreciation into consideration and reimburses you only for the current market price of the item.
Landscaping Damage Due to Freeze
Coverage for damage that is the result of freezing is a somewhat gray area due to the fact that freezing isn't considered a covered peril under many homeowners insurance policies. This means that you probably won't be covered if a sudden freeze were to destroy or damage your garden or landscape, but, as always, you should check with your insurance agency to be certain.
So the facts are that your homeowners insurance will cover damage that happens to your landscape, garden, or tools due to what they label as covered perils, such as a violent thunderstorm, etc., but most likely won't cover any damage to your landscape or garden caused by a sudden deep freeze. It is always best to check with your insurance agent to determine exactly what type of coverage you do have so that you will not receive any unpleasant surprises if you need to file a claim.