Lawnmowers cause a surprisingly high amount of damage, especially to younger kids. In fact, tens of thousands of people are hospitalized each year due to injuries as a result of lawnmowers. If an accident occurs with a lawnmower on your property, can you expect coverage from your homeowners insurance? There are some aspects of lawn mower accidents that are covered by home insurance, but it won't cover damage to you or the people living in your home. However, it will cover accidental damage done to your property, or to guests that are on your property, such as people hired to tend to your lawn. When damage occurs to guests, then coverage of their medical expenses (or legal expenses if they file a lawsuit) would fall under liability insurance.
Liability Insurance Covers Legal and Medical Costs You Are Liable For
When someone gets injured on your property, or due to your property, you are at risk of being held responsible for the costs associated with their medical bills, as well as other damages should they decide to file a lawsuit against you. Your insurance has a section for liability, for situations such as these. Your liability insurance will only protect against accidental scenarios, which not only means that intentional acts of harm won't be covered but harm as a result of neglect will also not be covered, which means that if you knew that your lawn mower was dangerously malfunctioning (or the cause of injury was due to a lawn mower problem that you neglected to fix), then your insurance will not cover any costs associated with that.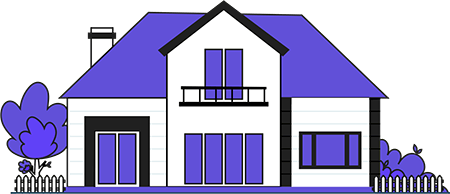 Compare Home Insurance Quotes
Save on your homeowners insurance premium by comparing offers from the best providers in your neighborhood.
The amount of personal liability coverage will change from policy to policy, and is typically negotiated; coverage amounts range from $100,000 to $500,000, with $300,000 being the usual amount. Typically, the higher your net worth, the higher you'll want your personal liability coverage. Another aspect worth noting about liability insurance is that it won't cover damage from vehicles. This can be relevant in the case of a ride-on lawn mower: homeowners insurance will typically only insure motor vehicles that go slower than a set speed, typically 25mph to 35mph. You might see your claim denied if your lawn mower can go to a higher speed.
Also Read: Does Homeowners Insurance Cover ATV Accidents?
When It Comes to the Lawn Mower Itself, It May Be Covered by Your Insurance
Just as personal liability is a section of your insurance with its own rules governing situations of homeowner liability, personal property protection is another section that deals with situations regarding your personal property, including things like furniture, appliances, electronics, and more importantly lawn mowers. If an accident occurs, and your lawn mower breaks, your personal property protection might cover your lawn mower, depending on which type of policy you have. The two most common types of homeowners insurance policies are known as HO-3 and HO-5. They mainly differ in how they deal with personal property; an HO-3 will only cover a limited list of perils, whereas an HO-5 will cover all perils, except those explicitly named in a list of uncovered perils. If you have an HO-5 policy, you can expect accidents relating to your actual lawn mower to be covered, although note that there are plenty of common types of damage that won't be covered, whether your policy is HO-3 or HO-5.
Your Insurance Considers Claims in Terms of Perils
A peril is any event that is damaging to your property. Your insurance will generally split perils into two categories, perils that are covered and perils that are uncovered. Covered and uncovered perils will change depending on the section of your homeowners insurance. For example, the covered perils for your actual home, also known as your dwelling coverage, can be different from the coverage that your personal property will have, especially if you have an HO-3 policy. Regardless of which policy type you have, there are a common set of perils that won't be covered. For example, simple wear and tear will not be covered, meaning that if there is a mechanical failure of your lawn mower due to age, your insurance will likely not cover the cost of replacing or maintaining it. It's imperative that you take steps to reduce the risk of your lawn mower damaging people or property. So the best thing you can do is to stay proactive and keep your lawn mower well maintained, and make sure to only let experienced people use your lawn mower.