As a property owner, knowing what is and isn't covered by your homeowners' insurance policy is important. So, does homeowners insurance cover lightning damage?
Lightning damage is considered a peril, and most damage by lightning will be covered by your home insurance policy. However, some exclusions may depend on the policy you have signed up for.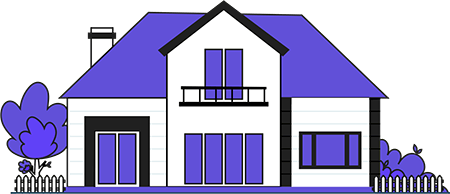 Compare Home Insurance Quotes
Save on your homeowners insurance premium by comparing offers from the best providers in your neighborhood.
Read on to find out more about whether or not your policy will help cover damages caused by a lightning strike. This article will discuss what an insurance policy typically covers, what kind of damages are covered, and how to file a claim.
How Homeowners Insurance Protects Your Property
Having lightning damage your home can lead to catastrophic consequences, such as property damage and injury. Homeowners insurance typically covers lightning damage to your property, including any resulting fire damage. In addition to this, most homeowners insurance policies will also provide coverage for the following: 
Personal property coverage, which includes furniture, clothing, and electronics
Additional living expenses if you are temporarily unable to live in your home due to lightning damage
Other structures coverage for damage to structures on your property, such as a shed or fence
Dwelling coverage for the physical structure of your home
It is essential to review your homeowners' insurance policy for specific details about lightning damage coverage. In some cases, a separate policy or endorsement may be necessary to ensure full coverage for lightning damage.
Types of Damage Protected by Insurance
In your insurance policy, you will see lightning defined as an "open peril," meaning it is covered unless expressly excluded in the policy language.
This means that damage caused directly by lightning, such as a fire or structural damage, is typically covered. However, certain types of damage may not be specifically covered or may have coverage limits.
Let's take a look at the type of damage that can be caused by a lightning strike. It is typically seen as either a lightning strike, a near miss, a ground surge, or a strike at trees.
Lightning Strike
In your insurance policy, a lightning strike refers to a situation in which a lightning bolt passes through your home. As a result, you may have to deal with fires, surges, charring, and cracks in the property. This type of lightning damage is covered by most homeowners insurance policies.
Near Miss
A near miss is a lightning strike that doesn't directly hit your home but may still cause damage. Because this type of damage is minimal and harder to prove, fewer claims are often filed for near misses or close calls.
This is because damage from artificial sources, such as an electric surge from your local power company, can create similar damage. However, the latter is not covered by homeowners insurance.
Ground Surge
Ground surge refers to the electricity from a lightning strike traveling through the ground and into your home's electrical system. This can damage your electronics and appliance, as well as power surges.
However, as ground surges are difficult to pinpoint, they may be harder to prove while filing your insurance claims. Instead, preventative measures are better for protecting your property from damage during lightning storms.
Tree Strike
Lastly, a tree strike refers to a lightning bolt striking a tree on your property and causing damage, such as a tree falling onto your home. This damage is typically covered under homeowners insurance and the cost of removing the fallen tree from your property. 
Coverage Exclusions and Limitations
It is important to note that while most homeowners insurance policies cover lightning damage, they may have exclusions and limitations. For example, your policy may only cover a certain dollar amount for personal property damage, or there may be exclusions for specific types of electronics and appliances.
In addition, some insurance companies may require you to have a separate policy or endorsement for certain types of damage, such as a shed or pool damaged by lightning. It is important to review your specific insurance policy for any exclusions or limitations regarding lightning damage coverage.
In some cases, a lightning protection system may also be required to fully cover lightning damage. This includes lightning rods, bonding, and surge protection for your electrical system.
How to File a Claim
If you experience damage from a lightning strike, it is necessary to document the incident and any resulting damage as soon as possible. Take photographs and record any repair estimates. Contact your insurance company to report the damage and start the claims process.
Depending on your policy, you may also want to contact a licensed professional to assess and repair the damage. Keep all documentation and receipts for any repairs or replacements, as they may be necessary for the claim.
Overall, homeowners insurance does cover lightning damage, but it is important to review your specific policy for any exclusions or limitations. Be sure to document and report damage as soon as possible to start the claims process.
Final Thoughts
It is always important to stay safe during a lightning storm and prevent damage to your property. However, if lightning does strike and cause damage, homeowners insurance can help cover the cost of repairs. Review your policy for exclusions or limitations and document any damage to start the claims process.