This is a question that has become very common among homeowners that find it necessary to use hearing aids. Certain hearing aid specialists state that you should place your hearing aids under your house and content insurance.
Most homeowners insurance policies cover lost or damaged hearing aids since a hearing aid is thought of as personal property. However, remember that the damage or loss will be placed under your policy's regular deductible. This means that if it is determined that the value of the hearing aid is not more than your deductible, you will not be entitled to any compensation. Moreover, should your hearing aid be stolen, your insurance policy will only cover the value up to the limit of your personal property liability, which is clearly stated in the policy. If the value of the hearing aid is greater than the set limit, you will not be compensated beyond the limit.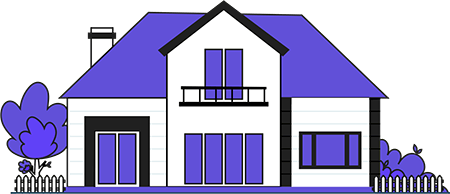 Compare Home Insurance Quotes
Save on your homeowners insurance premium by comparing offers from the best providers in your neighborhood.
Something to note here is that personal property coverage on your homeowners policy extends beyond your home. Normally, your home insurance policy will cover the value of your property anywhere worldwide.
In some instances, all you need to do is to add Valuable Articles Coverage to the homeowners policy you presently have, and you'll receive the special protection you need for your valuable possessions.
This means that from your heirloom jewelry to essential medical devices, for example, hearing aids, this coverage will protect your most important belongings if theft should occur.
Once you have claimed your hearing aid as a valuable, and it has been inserted into your insurance policy, most agencies will cover the loss without a problem.
Precisely What Does the Policy Cover?
Hearing aids are very tiny, albeit expensive objects that can be lost, damaged, or even stolen quite easily. If you purchase a hearing aid, it usually comes with a 3-year warranty, which covers only manufacturing defects. It actually should come with a further 12-month loss or damage provision under the discretion of the manufacturer.
In the event that your hearing aids get damaged, destroyed, or lost as a result of attempted theft, fire, or flood, most insurance agencies will replace them with new ones. In instances where your hearing aid is deliberately damaged inside your home, your will not receive reimbursement.
How to Add a Hearing Aid to Your Homeowners Insurance
While it's true that homeowners insurance covers a wide range of personal property, specifically high-rate items like hearing aids may not be adequately covered. Because of this, oftentimes insurance agencies will sell you a separate rider that will more completely protect your hearing aid, while other companies will sell you entirely separate coverage.
Documentation
Regardless of how you opt to insure your hearing aid, you will be required to prove that you have one if you expect to obtain coverage for it. You will need the appropriate documentation of the basic information concerning the hearing aid, such as its model number, serial number, and purchase price and date. In some cases, insurers may further require that your audiologist inspect the hearing aid and certify both the fact that you have one and the condition it is in.
Adding Hearing Aid to Existing Policy
If the basic homeowners insurance policy you already have doesn't directly exclude hearing aids, you may already be covered and not even be aware of it. In that case, all you need to do is have proof that you own it. Furthermore, besides checking your policy to make sure that hearing aids are covered, check to see if it includes what is called "off-premises" coverage. If not, this means that your hearing aid will only be covered when you are at home. Plus, there's the fact that if you use your primary coverage for your hearing aid and it is lost or damaged, the replacement will be covered under your home's main deductible.
Buying Scheduled Personal Property Riders
There is an additional way in which you can obtain hearing aid coverage, and that is by buying an extra policy referred to as a rider, that will go together with your basic personal property insurance. This policy will compensate you only for certain specifically listed, or scheduled, persona items. Like your hearing aid. It is the same insurance that you would purchase for firearms, collectibles, or valuable jewelry. Riders also provide separate coverage and separate deductibles that are different from those in your basic policy, and may also cover certain instances that your basic policy won't.
Dedicated Hearing Aid Insurance
If the homeowners insurance company that you currently have insuring your personal possessions refuses to cover your hearing aid, you may have the further choice of purchasing a separate specialized hearing aid policy. This type of insurance can provide you with protection against accidental damage or breakage, or loss. Certain insurance agencies will even allow for coverage on repairs on out-of-warranty hearing aids, so long as they are worth it.
Warranties
Generally, your hearing aid will probably come with a warranty, providing one year of coverage. However, you may not want to rely on this warranty as your entire form of coverage. The fact is, that while warranties may cover flaws in the workmanship or factory defects, they do not cover repair, loss, or water damage.
Living In a Nursing Home
If you reside in a nursing home, the items that you take with you are ordinarily a lot less than what you actually own. Yet those belongings frequently have sentimental value. The number of homeowners insurance companies that provide insurance to people living in nursing homes is very low. The best thing to do here is to obtain insurance just for your hearing aids.
For many people hearing aids are an essential part of their lives, so the wisest thing to do is to insure your valuables. This way, if the worry over losing your hearing aid is a constant source of concern for you, then you will be able to eliminate that concern.
Just keep in mind when making a claim on your homeowners insurance for a lost or damaged hearing aid that your insurance will cover this under the personal property claim. However, you will have to pay the same deductible and even if your hearing aid costs more than that, there will still be limits on what you will receive as compensation. Before signing on, be sure to discuss the matter with your insurance agent and to completely understand what type of coverage you are buying for your hearing aid and its potential loss or damage.