The liability coverage contained in your homeowner's insurance policy does cover lost wages if someone suffers injury on your property or you are liable for an off-premises injury eligible under the plan.
Lost Wages Coverage for Someone Injured on Your Property
Many homeowners have concerns about being held liable for an injury someone sustains on their property. For example, a guest may trip and fall down the stairs, leading to a severe injury with extensive medical bills and time lost from work. In addition, the accident victim could bring suit against the homeowner, potentially costing him or her thousands of dollars.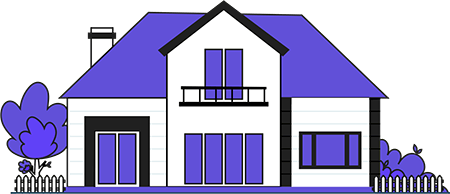 Compare Home Insurance Quotes
Save on your homeowners insurance premium by comparing offers from the best providers in your neighborhood.
Homeowners insurance ensures the policyholder is protected against these types of lawsuits by paying for any liability assigned to the homeowner. An injury often results in the victim being forced to miss work because of medical visits, surgeries, physical therapy, and recovery at home. For instance, if a guest broke his leg and shattered a hip falling down the stairs, he may be unable to work for several months. Likely, he would need time at home for the broken leg to heal and may need surgery for the shattered hip. The surgery may result in a hospital stay and time in a rehabilitation center.
The insurance company would pay the accident victim for any income lost due to the inability to work. In addition, the policy pays for all other categories of legal damages related to the incident, such as the following:
Medical Bills
Hospital, doctor, physical therapy, and rehabilitation center fees are covered by homeowners insurance.
Pain and Suffering
Many accidents result in significant pain for the victim. This may include pain from the injury itself, as well as necessary surgeries and therapies. Homeowners insurance coverage offers compensation for these difficulties.
Loss of Enjoyment of Life
An injury can leave a person trapped at home or in a hospital for long periods of time. As a result, he or she may be unable to engage in family activities, hobbies, and other fulfilling activities. In the worst cases, the victim may be permanently unable to participate in some aspects of his or her pre-accident life. Homeowners insurance offers financial compensation for these losses.
Off-Site Accidents
Homeowners insurance also pays lost wages and other compensation for some types of accidents occurring outside the home. For instance, home insurance policies provide coverage if you are liable for your dog biting someone or running into a pedestrian on your bike. In these cases, the policy covers the same damage categories as an accident on your property.
Coverage Limits
You elect the liability coverage limit when you take out a homeowners insurance policy. Any amount you owe on a legal claim beyond the limit remains your responsibility. For the average homeowner, $100,000 in liability protection suffices. However, if you have items on your property that have high liability potential, such as a swimming pool or trampoline, most insurance agents recommend higher coverage limits.
Umbrella Policies
If you have substantial assets, including home equity, umbrella policies are an inexpensive method for protecting them in case of an exceptionally large liability claim. For example, a homeowner with $500,000 in equity and another $500,000 in investments should consider umbrella coverage. Because of the high level of wealth, this individual could be the target of a very expensive lawsuit. Umbrella coverage, which comes in increments of $1 million, protects high-value property.
Homeowners insurance policies cover many forms of liability. For example, lost wages are a common claim in personal injury cases. If an accident results in a person's inability to work, he or she can quickly lose thousands of dollars worth of income. If you are liable for someone's lost wages because of a covered incident, your homeowners insurance policy will compensate the victim on your behalf.