Regardless of the situation, it's vital to buy homeowners insurance so that you can protect not only your home but all of your personal possessions. However, nothing lasts forever, and sometime down the road, you may find yourself moving on to a new residence. If this is the case, are you aware of whether or not your homeowners insurance will cover the move?
The fact of the matter is that your homeowners policy may or may not cover your belongings during a move or when they are actually in the moving truck. It all depends on how and where the damage occurred, and on the coverage you presently have. It is for this reason that you absolutely must consult with your insurance agent and learn precisely what your policy covers in this type of circumstance. Ask what type of insurance you can buy to be certain that all of your possessions are covered during a move, and this includes transporting your belongings in a moving truck.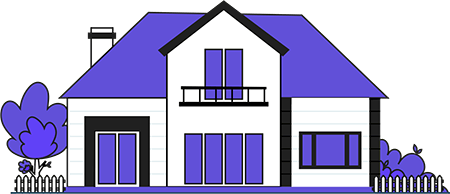 Compare Home Insurance Quotes
Save on your homeowners insurance premium by comparing offers from the best providers in your neighborhood.
Moving Insurance Coverage Limitations
Your home insurance could cover damage to your possessions if that damage happens in your home, often it doesn't cover damage that occurs as you are moving items from one place to the next. You need to thoroughly read your insurance policy and then talk to your insurance agent if you have any questions or are unclear about anything.
Even if your homeowners insurance policy does include coverage for moving and storage, you're not out of the woods yet, as you must ascertain exactly what that coverage means. Often it only covers catastrophic damage to your belongings. Here's what that means. In general, homeowners insurance policies don't cover damage to individual items, but if your possessions are in storage and the storage facility has a fire, or if the truck transporting all of your personal property has an accident and everything is destroyed, then you'd probably be covered. You should remember that if some of your personal items happen to suffer damage through normal breakage, for example dropping, these would most likely not be covered by your homeowners insurance policy.
Talk to Your Insurance Agent
If you're uncertain about exactly what your amount of coverage and the circumstances under which you would be covered are, these are some of the questions you should ask your agent:
What type of damage is covered and what isn't?
What are the circumstances under which damage or loss of my possessions would be covered?
How much of a deductible will I have to pay if all of my personal items are destroyed or lost?
Is it a good idea for me to purchase moving insurance?
Personal Property Coverage When Moving
Under your basic homeowners insurance policy, most personal items in transit are covered on what is called a named-peril basis. That translates to a stated kind of loss that is defined in your homeowners policy. So if the truck carrying your personal property overturns, your possessions will be covered because your homeowners insurance policy named an overturned truck as a peril.
Is Your Personal Property Covered If You Do Your Own Moving?
Actually, it is. For example, if you move your personal items using your own trailer, then those items are covered while in transit, but normally you will have to have comprehensive and collision coverage for the trailer itself.
However, be aware that the moving accident that occurs the most frequently is damage to personal items resulting from incorrect handling, and that is not normally covered. Unless you have prior experience with moving, you can think you have safely packed your possessions when the reality is that they are unsteady. Without the correct packing equipment and knowledge, loads can be placed in such a way that they shift while being transported. That's when breakage and damage happen, and this can lead to a claim being denied.
Is Moving Company Negligence Covered?
While you are busy getting quotes for moving, it's very important that you check that your chosen mover's certificate of insurance is current. It's also essential to know about the terms of their coverage. Ask all the questions that you can until you are satisfied with the answers concerning whether you'll be compensated if the moving company is responsible for an extensive loss of your property.
Moving Insurance
If you hire a moving company, it is their responsibility to offer insurance on any items that may be damaged or lost during the move. Furthermore, that coverage should include restoration expenses for any damage your property receives during the move.
Read the moving company's insurance policy with an eagle eye to be certain you are aware of just how much coverage is available. Certain states only require that movers carry minimum liability coverage of 60 cents per pound. If this proves to be true in your state, you should think about buying additional insurance and seek out comprehensive coverage that reimburses you for the full value of damaged or lost items.
You should be aware that if you are moving from one state to another, moving companies are legally required, under the terms of Federal law, to provide you with the option of minimum liability or full value. Various states also have different regulations on how valuations are determined if you're moving within your state. If you wish to learn more about your particular state's mover valuation and liability requirements, contact your state mover's association.
Above all, before you begin your actual move, you need to give your homeowners insurance policy a close review. Better yet, make a call to your homeowners insurance agent for a better explanation of what is covered and what isn't when you are making this move.