Since our patios are exposed to the elements, they are subjected to many more elements than our houses can be. This makes them and anything on them particularly vulnerable to the conditions outside the home, including things like intense rain, hail storms, and wind. Thankfully, your homeowners insurance is likely to cover damage to your patio, so long as the cause of the damage is normally covered by your insurance. Patios are considered part of your house, so they fall under all of the same coverage as your house. Patios that are not attached to your house are also still covered under most policies, categorized as "other structures".
Your Insurance Will Cover Patio Damage If the Peril Is Covered
A peril is defined as any event which can cause damage. Your insurance has two general classifications for perils: perils that are covered, and perils that are uncovered. When a peril is considered covered, any damage caused by it will be covered by the insurance, to the degree stated in the policy. By contrast, a peril that is uncovered will not have any of the damage it causes compensated by the insurance. With modern insurance policies, most perils will be considered covered but will have a list of explicitly uncovered perils.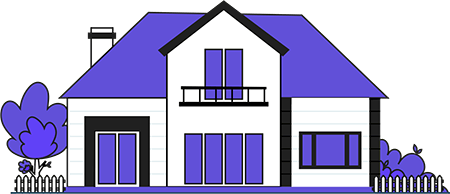 Compare Home Insurance Quotes
Save on your homeowners insurance premium by comparing offers from the best providers in your neighborhood.
This might sound simple enough, but the devil is in the details. For instance, fires are likely to be covered by your insurance, and house fires tend to be included explicitly on policies. However, the circumstances of the fire can change coverage, such as in cases of arson by the insurance policyholder or a vandal. Likewise, there are situations where perils that are normally uncovered can be covered, if the ultimate cause of the peril is itself normally covered. Flooding is typically an uncovered peril, however, if a wind storm knocks a tree over, which then goes on to break your house and piping, leading to flooding of your basement, then it is possible for your insurance to cover both the damage to the wall and the flooding of your basement.
Detached Patios Are Covered Under the "Other Structures" Category of Your Insurance
Other Structures insurance is the part of your insurance that outlines coverage for structures on your property that aren't your house or attached to your house, such as fencing, detached garages, or sheds. While the covered perils will likely mirror those of your house, there may be differences in the nature of the compensation, for instance, they may offer less monetary compensation on the structure or the items within the structure. It's always a good idea to review your policy and get familiar with the particulars of the coverage.
Items and Furniture on Your Patio Will Be Covered
If the peril that damages your patio also happens to damage your items, those items will be eligible for coverage same as any in your house. The exact nature of that coverage will depend on which type of policy you have. The two most common homeowners insurance policies are the HO-3, and the HO-5. The main difference between the two is in the coverage for your personal property – an HO-3 policy will only cover a specific list of perils for your furniture or personal items, whereas an HO-5 policy will cover all perils except for those excluded explicitly in a list, much like with your house. An HO-5 also covers more of an item, which makes it more attractive if you have expensive patio furniture.
If you have an item on your patio, such as a sculpture or perhaps a grill or other appliance, that is very expensive, you can extend the coverage on it by putting it through an appraisal. This allows your insurance to evaluate the cost of the item, and make a special policy that you can pay for it to ensure full coverage in the event of damage.
You Should Review Your Policy to Check for Details
The world of insurance can be very finicky, and policy details can change from region to region, even from property to property. While sometimes it can be straightforward, there are many exceptions that can exist, and so you should familiarize yourself with your policy so you can be prepared if something happens to your property.