Homeowners insurance covers personal injury but only under specific circumstances. Insurance policies protect the homeowner against claims from a third party for liability and medical payments from a personal injury that occurs on the property, as well as dog bite claims, regardless of where the incident happens. However, the policy provisions exclude compensation for an injury to the homeowner, family members, and other residents.
Liability Versus Medical Payments
The liability component of a homeowners policy covers the insured when they bear legal responsibility for another's personal injury; in contrast, the medical payments part of the policy pays regardless of fault.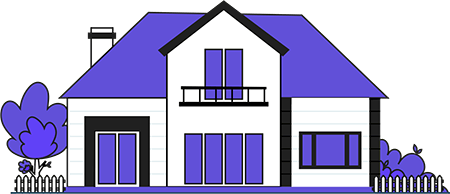 Compare Home Insurance Quotes
Save on your homeowners insurance premium by comparing offers from the best providers in your neighborhood.
Liability Coverage
Sometimes, the homeowner is clearly at fault when a person injures themselves on a residential property or suffers a dog bite. Insurers intend the liability clause of homeowners policies for those situations. For example, imagine if a guest fell down your stairs and broke a leg. After the accident, the guest sued because of the stairwell's poor maintenance. He or she tripped on a loose tread.
Such a flaw can trigger a liability claim. The homeowner failed to exercise due care in the maintenance of the stairway. Liability coverage pays for the victim's medical care, legal costs, rehabilitation, lost wages, and pain and suffering, as applicable.
Standard homeowners policies feature $100,000 worth of liability coverage. One hundred thousand represents no magical sum. It is simply the traditional amount because coverage providers, insurance agents, and customers agree on its adequacy for the vast majority of liability claims. However, some homeowners should elect higher limits.
For example, some insurers recommend or require policyholders with swimming pools to carry higher liability limits. Swimming pools come with the added risk of severe personal injury or wrongful death claims. As a result, most insurance pros recommend raising policy limits to $500,000.
Legal and insurance pros also recommend that high net worth families establish more significant liability limits. Many lawsuits settle for an amount equal to or less than the policy limits because the defendants have limited resources, making it unlikely the plaintiff could collect a larger amount. However, since high net worth individuals possess many valuable assets, the plaintiffs may seek restitution beyond the policy maximums.
Insurers designed umbrella insurance for policyholders with high-value assets. Umbrella coverage adds $1 million or more in liability coverage for a small additional premium. Should a massive liability claim rain down, umbrella insurance prevents the policyholder from being soaked.
Medical Payments to Others Coverage
The medical payments to others coverage pays for personal injuries to others when the homeowner bears no blame for the incident. Simply put, if an injury to a non-resident occurs on your property, this feature of your policy covers the medical bills. For example, if a guest fell down your stairs because of their own carelessness, the liability provisions of your policy would not apply. However, the medical payments to other coverage would compensate the victim.
However, policy limits are far lower than liability coverage. Typically, payments max out at $1,000 to $5,000 per claim. In addition, the policyholder remains responsible for the deductible, often $500 to $1,000. As a result, the potential payout may be too low to merit filing a claim.
Should a claim filing be necessary, the medical payments to others provision covers many expenses, including X-rays, physical therapy, and follow-up doctor visits. Often, the injured party's health insurance covers these costs, making a claim unnecessary. However, if the victim is uninsured or has large out-of-pocket expenses, the medical payments to other coverage come in handy.
Personal injury claims can become ruinously expensive, especially when legal fees are involved. Homeowners insurance policies protect policyholders from liability and provide some medical payments coverage when the incident is not the homeowner's legal responsibility. However, homeowners policies exclude personal injuries to residents, so you may still bear the expense of an accident.