Your standard homeowners insurance policy could indeed help cover repairs if raccoons damage or destroy your attic, roof, or any other areas of your home's basic structure. But this doesn't mean that it covers everything. Normally, homeowners are responsible for replacing or repairing all personal possessions — for example clothing, furniture, etc., that are damaged or destroyed by raccoons.
The one thing that is sure about homeowners insurance is that the policies issued by each company are molded to meet certain circumstances. This makes them vary according to the needs of the homeowner and the insurance agency that is issuing the policy. So you need to be completely aware of what perils your insurance policy covers so that you can ensure that any damage to your home or property is covered. In other words, always read the fine print, and thoroughly review the policy with your insurance agent before signing on board.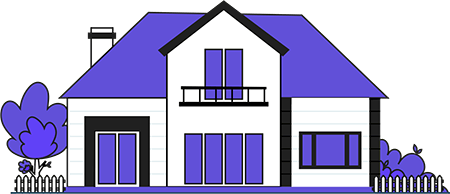 Compare Home Insurance Quotes
Save on your homeowners insurance premium by comparing offers from the best providers in your neighborhood.
Homeowners Insurance and Raccoons
Raccoons may be cute furry little critters with their bandit masks and almost human paws, but they can also be a huge nuisance and extremely destructive, not to mention difficult to get rid of. The damage that raccoons can do to your home can be extremely expensive. Moreover, not all homeowners insurance companies will cover the damage they do. It used to be that with wildlife damage the usual rule for homeowners insurance was that it fell under the vermin clause which excluded raccoons. Since then the term vermin has been redefined to further protect insurance companies from having to cover these sorts of claims. Which is not great for the average homeowner.
Raccoons can create quite an unpleasant situation in your home. Just their droppings create a major health hazard which is the reason when a pest management company comes into your home to clean up after raccoon damage, they actually have to put on Hasmat gear. Multiple parasites along with rabies are found in raccoon droppings and if these happen to be in or even near your HVAC system, you and your family can find yourselves experiencing extremely serious health issues.
This is why having homeowners insurance that covers raccoon damage is essential, and you need to be aware of exactly what your coverage is.
Structural and Dwelling Damage
Your basic homeowners insurance will normally cover structural and dwelling damage from raccoons. Now dwelling coverage usually concerns the actual home you live in, while structural damage covers structures of the home and other structures that are located outside of your home such as sheds, attached garages, etc. A close examination of your home insurance policy should help to clear up for you exactly what is covered and what is not. When reading over your insurance policy you will want to first be aware of how much your deductible is. Then determine exactly what your amount of coverage is.
Personal Property Coverage From Raccoon Damage
You can relax about your basic homeowners insurance policy because it probably will cover structural and dwelling damages resulting from raccoons, however, damages to personal property are frequently not covered. This boils down to that if a raccoon finds its way into your garage and destroys everything in it, most probably it will not be covered. Electronics, clothing, furniture, etc. are all labeled as personal property that will likely have to be replaced at your own expense as the owner.
So, if the raccoon severely damages a wall, your homeowners insurance will probably compensate you in paying for new drywall, but if the raccoon decides that the wiring on your lawn mower looks irresistible, your insurance will most likely not give you any help with the cost of replacing or repairing it.
If your home or other structures receive damage from rodents such as mice, squirrels, rats and chipmunks, insects, or birds, your homeowners insurance policy will probably not cover the loss of any personal property that ensues.
Also, know that homeowners insurance policies normally do not provide coverage for damage to your property resulting from a pet or other domestic animal, for example, a pig, chicken, or cow.
It's always a smart idea to thoroughly review your homeowners insurance policy to find out for certain what type of coverage it may give you if a raccoon or other wild animal inflicts damage on your property. It should be a straightforward matter, but there can be complications involved, so make the effort to learn what's involved before a problem occurs.
Also Read: