In many cases, homeowners insurance companies pay to repair or replace retaining walls. The policy must not explicitly exclude retaining walls to be eligible for coverage. Additionally, most policies require separate structures, such as retaining walls, to be listed separately on the policy and subject to an additional cost. The wall must also have suffered damage or destruction from a covered peril.
Retaining walls serve essential functions by providing drainage and preventing mud, dirt, and other particles from entering your yard or house. In addition, they offer protection from flooding and other disasters, so homeowners are naturally interested in ensuring their retaining walls have coverage under their homeowners insurance.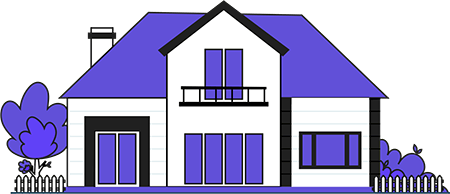 Compare Home Insurance Quotes
Save on your homeowners insurance premium by comparing offers from the best providers in your neighborhood.
In many cases, retaining walls are eligible for coverage through homeowners insurance when they suffer damage; however, as a structure separate from the main dwelling, many homeowners insurance companies require policyholders to include them as an add-on at an additional premium. Presuming the retaining wall is included on the policy, the insurance company will repair damage to or replace the retaining wall if a covered peril impacts it. Covered risks include sudden, unpreventable events, such as fire, wind, lightning strikes, and vandalism.
However, many homeowners insurance policies explicitly exclude retaining walls from coverage. Policies of these types may not allow you to add them on as a detached structure. In those cases, you may need to shop for a different policy from a different company.
Even if the retaining wall is covered under your policy, it may incur damage that your insurance company won't pay to rectify. For example, retaining walls wear down over time. Damage from normal wear and tear is ineligible for coverage under homeowners insurance policies. In addition, environmental impacts that gradually break down a retaining wall are usually excluded. For example, winds that regularly blow onto a retaining wall and wear it down over the years are uncovered events; they are maintenance issues rather than sudden impacts from covered perils. However, wind from a major storm or tornado that knocks down a retaining wall is a covered peril, and the insurance company will pay the damages if the policy includes the retaining wall.
Covered Structures
If your retaining wall is eligible for coverage under your policy, ensure it is listed under covered detached structures. Detached structures, such as sheds, unattached garages, and retaining walls, are ineligible for coverage under coverage for the domicile. They must be listed separately and require an extra premium for each.
Most homeowners insurance policies limit detached structure coverage to 10% of the dwelling coverage cap. For example, if your house is worth $200,000, your retaining wall's coverage is limited to $20,000.
Exclusions
Not all damages to a retaining wall are eligible for coverage. Exclusions include animal damage, foundational issues, soil settling, flooding, water damage, and sewage backups. Homeowners insurance policies also exclude damage from earthquakes. In addition, damage from ice freezing and thawing in the wall's cracks counts as a maintenance item.
Supplemental Insurance Policies
Though homeowners insurance policies exclude certain events, some of these perils can be protected against with supplemental policies. For example, homeowners in earthquake-prone regions can purchase an earthquake insurance policy. As with standard homeowners insurance, these policies cover detached structures if the contract permits. However, they usually have higher than average deductibles, often 10% of the property value.
Retaining walls provide enormous benefits by preventing water, mud, and other damaging substances from steaming onto your property. However, they can be expensive to repair or replace. You can receive full reimbursement minus your deductible when they sustain damage or are destroyed by events covered by your homeowners insurance.