The unthinkable has happened! You were robbed in the middle of the night, and now the most valuable of your possessions has been taken. How do you even start to replace your belongings? Thankfully, your homeowners insurance has you covered, literally: you can expect theft to be covered on most policies. In fact, theft is a peril that is often covered explicitly on the most common type of homeowners insurance policy, the HO-3. The amount compensated, and the distribution of that compensation can change per policy, however you can always expect at least some amount of your possessions to be covered.
Theft Is Typically an Explicitly Covered Peril
A peril is any event that can cause damage to your property. Your insurance broadly categorizes perils into one of two categories: covered or uncovered. If a covered peril is the cause of damage, then your insurance will help cover the costs of repairing or replacing the damage. With modern insurance, all perils are generically covered, except for those perils that are explicitly listed as uncovered. Common things that are covered include damage from smoke or fire, damage from a hailstorm, and theft or vandalism.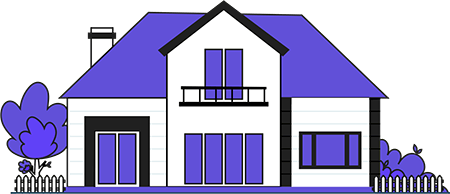 Compare Home Insurance Quotes
Save on your homeowners insurance premium by comparing offers from the best providers in your neighborhood.
There is, however, often a distinction between dwelling coverage and personal property protection, which means that the perils covered for your actual house can be different than those covered for your personal property, such as those that might be stolen during a burglary. How different your dwelling coverage and personal property coverage depend on which type of policy you have.
Different Policies Cover Personal Property to Different Degrees
The two most common policies you'll find with homeowners insurance are known as HO-3 and HO-5. Their major difference lies in their coverage for personal property: an HO-3 will cover only a limited list of perils. This can mean that, if you have an HO-3 policy, an event that damages your house and possessions can see you receiving compensation from your insurance only for the damage to your house, and not for your lost possessions. With an HO-5 policy, the compensation for your personal property will be covered in the same way as your house, where all perils are covered except for a named list, thus the coverage is more comprehensive. Another difference also lies in the amounts compensated: an HO-5 will simply cover a higher coverage limit than an HO-3.
Thankfully, while it's always good to review your policy and get up to speed on the specifics, theft is often included as an explicitly covered peril in the personal property protection section of an HO-3 policy, so you are likely to be covered for theft regardless of which type you have. The coverage limit can be a major difference, though: when your insurance is calculating how much to compensate, it will limit the amount compensated for different categories of items, such as jewelry or electronics. For example, consider a situation where a thief steals all of your jewelry, as well as your TV: your insurance may only cover a certain amount of the value of your jewelry, and a certain amount of your TV. This can be a highly variable part of a policy. An HO-5 policy will extend these limitations, and allow more expensive objects to be covered.
You Can Guarantee More Coverage for Particularly Expensive Items
Typically, not only will insurance only cover a particular category of personal property up to a certain amount, but the total amount they will compensate is often some fraction of your total property's value. This can be a problem if you have personal property that is especially expensive, such as particular kinds of jewelry or artwork. For these sorts of situations, your insurance company will offer something known as scheduled personal property endorsement, which allows specific items to be appraised for their full worth, and to then have that worth covered by your insurance, separate from your overall personal property protection.
While you can be confident that your insurance policy is likely to cover theft from burglary, you should always check your policy and make sure to check out the details of your coverage, so that you can decide if you need any extensions. Being prepared is the best thing you can do for your property.
Also Read: Does Renters Insurance Cover Burglary?