Understanding what your home insurance does and does not cover is an essential part of owning a property. Does homeowners insurance cover a rotting deck? The answer to that is no, it doesn't. Homeowners insurance won't cover things to do with maintenance or aging issues, which rotting boards fall under. Of course, as always your specific policy determines exactly how much coverage you have. In order not to be caught off guard it is important to know what your policy will cover, and what it will not and take your steps accordingly.
When Is Damaged Deck Covered?
Homeowners insurance covers wood rot if the damage is caused by a covered peril, like sudden and accidental water damage from a burst pipe. This would be deemed as a 'sudden loss' in insurance policy terms. An example of that could be accidental fire damage from an out-of-control barbecue. Whether you've charred the siding of your house along with the crispy hotdogs or a tiki torch becomes untethered and tips over onto your deck boards, accidental damage is typically covered. Some other examples of sudden losses could be a tree falling onto the deck. Perhaps the old oak tree in your backyard is struck by lightning and comes crashing down onto your unfortunate deck. It would most definitely be covered, just like if it happened to your house itself.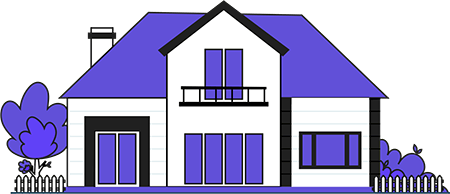 Compare Home Insurance Quotes
Save on your homeowners insurance premium by comparing offers from the best providers in your neighborhood.
When Is Your Deck Not Covered?
Homeowners insurance also does not cover pest infestations, so if termites decimate your wood furniture or cause wood rot in your cupboards, you wouldn't be covered. Most reasons for wood decay are excluded from homeowners insurance coverage. If the wood rots over a span of time or because of a lack of upkeep, homeowners insurance won't cover repairs. Wood rot or floor beam rot is generally not covered by a homeowners insurance policy. But as with most things, there are exceptions to that rule. If the rot occurs as a result of a peril that is covered by your homeowners insurance, then congrats you just might be in luck.
Home insurance excludes coverage for flood damage as well. If you live in an area that's at an increased risk for flood damage, you should think about maybe purchasing a flood insurance policy. While it is an extra expense, in the unfortunate event of a natural disaster, you and your family will be covered. Damage to your home, appliances, and other belongings that can be chalked up to general wear and tear, preventable hazards, or periodic upkeep problems are not covered by homeowners insurance. This comprises most losses that aren't of an immediate nature. Knowing exactly what your policy will be able to assist you in dealing with is essential, especially in times of crisis like natural disasters. Many people bemoan the cost of flood insurance and similar coverages, saying that they would never need it. A common sentiment but personally, the saying of: "you would rather have it and not need it, than to need it and not have it" rings true more often than not in situations such as these.
Preventative Steps You Can Take
A good way to avoid taking losses in regards to the state of your home is to remain vigilant for changes for the worse at certain places in your home and around your property. Dry rot can be one of the most prevalent of these aforementioned negative changes.Yet despite this fact, dry rot can slip under the radar if one is not continually taking stock of the state of your property. Here are some potential warning signs to look out for dry rot in your own home: seeing instances of damaged or decaying timber, smelling damp odor or musty smell. Some other things could potentially be observing deep cracks in the timber grain, having brittle timber or timber that crumbles in your hand. And finally, concentrated patches of orange-brown spore dust or gray strands on timber.
Regular maintenance on problem areas in your home and around your property may take both time and effort, but these actions will pay off in the long run by potentially saving you money in avoidable insurance costs!