If you've just recently survived a heavy storm, but noticed that your shed housing all of your tools (or perhaps more) was damaged, perhaps due to the roof leaking, or getting damaged from some hail, or burning down due to a lightning strike, you might wonder to yourself: will my insurance cover my shed? In general, you can expect your shed to be covered, as long as the event that caused the damage is covered under your home insurance. Sheds fall under your "other structures" coverage, which means that there is explicit coverage for it in your insurance, although the details may change from policy to policy.
Other Structures Coverage: Covered vs Uncovered Perils
These different sections define what perils will or won't be covered, as well as what exactly coverage looks like. Your dwelling coverage, for example, is the part of your insurance that details the coverage offered to your house, and things that are attached to the house. Personal property protection covers things such as your electronics, your furniture, or other personal items. Your shed would fall under "other structures coverage", which covers things like detached garages, fences, gazebos, or sheds. While other structures and houses tend to have the same perils covered, the amount of money that your home insurance will offer for coverage will be different. Other structures will typically be covered for 10% of your dwelling coverage limit.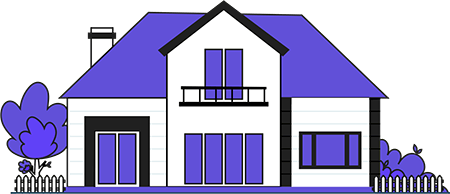 Compare Home Insurance Quotes
Save on your homeowners insurance premium by comparing offers from the best providers in your neighborhood.
Perils Are the Main Deciding Factor of an Insurance Claim
A peril is any event that can damage your property, such as hailstorms, earthquakes, infestations or lightning strikes. When you file a claim, your insurance company will determine whether or not the damage that has to be repaired was caused by a covered peril, and will only offer compensation if they determine that a covered peril was responsible for the damage. Which perils are covered will depend largely on which section of your policy the claim would fall under. With a modern homeowners insurance policy, when it comes to other structures coverage, all perils will be covered, except for an explicit list of uncovered perils.
Things that are typically covered include damage from windstorms, damage due to falling objects (such as a tree that collapses onto your shed), or damage from smoke or fire. Perils that are uncovered often include events such as infestations, earthquakes, mudslides, or floods. One common cause of shed problems that will NOT be covered by your insurance is damage due to wear and tear. Your insurance will expect you to maintain your shed on your own dime, which means making sure that any parts that are past their lifetime are replaced, and that inspections are done regularly to make sure (if some sort of problem does occur) that there will be no question that it was out of your control. Even if your shed is subject to covered damage, such as damage from a hailstorm, if the roof of your shed was already damaged just due to age, it can weaken your claim and may limit how much your insurance will cover. Thus, it is imperative that you regularly inspect your shed and make sure that its needs are taken care of.
How Much Cash You Receive Can Depend on Your Policy
Typically, the amount of money allotted to damage for other structures is some percentage of your dwelling coverage, usually somewhere around 10%. This might be fine if you have a tiny shed, but if you have expensive structures on your property, such as a fully insulated separate garage or a large swimming pool, that amount may not cover the cost of having to do a full replacement. In cases such as these, you can purchase additional protection for your other structures that can help cover more (or even all) of the cost of replacing a structure. Replacement cost is the insurance term that refers to the value that will be covered, and you can get different kinds of calculations of the replacement cost based on how extensive coverage you want. The most common kind of coverage is called replacement cost value and refers to the cost that it would take to repair the structure with normal construction costs, and it may be a good option to look into if you have a lot of different structures on your property.