If you are a homeowner then you might well be concerned about whether or not homeowners insurance covers sidewalk repair. Unfortunately, if you have a sidewalk badly in need of fixing, homeowners insurance does not cover sidewalk repair.
The reason for this is that homeowners insurance is not intended to assist with the expenses associated with general upkeep. It is for spontaneous and unexpected events or covered risks. Subsequently, if your sidewalk was damaged due to a covered peril, then it would certainly be paid for, but sidewalk repairs due to weather, cracking, and general wear and tear because of the constant stress placed on it are not covered.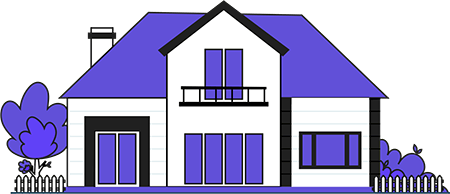 Compare Home Insurance Quotes
Save on your homeowners insurance premium by comparing offers from the best providers in your neighborhood.
Are You Really Responsible For the Upkeep of the Sidewalk?
Normally sidewalk maintenance is a joint responsibility, part the city's and part the home owner's. This rule, however, depends on the area in which you live. Certain cities hold the homeowner responsible for repairing the sidewalk directly in front of their home. In this situation, you will not be protected by insurance regardless of whether the sidewalk suffered damage from a named peril or not.
Do not simply take the view that sidewalks are public property and thus a public responsibility. In general, now the trend is to try and have most homeowners pay for their own sidewalk maintenance.
Protect Yourself
If you want to avoid lawsuits and financial problems then what you need to do is have any damage to your sidewalk immediately repaired, and also raise the liability insurance in your homeowners insurance policy. For just a small raise in your premium, insurance agencies will permit you to raise the liability coverage from the basic $250-500K up to a few million dollars.
This is extremely important during the winter months when slip and fall accidents are more likely to occur. As we all know, it doesn't take much to cause a bad injury, so why risk it happening?
Repairing the Sidewalk
Give your sidewalk a brief examination to discover whether it could in fact be dangerous during rain or snow storms. Here are some sidewalk repairs that you can do to stay on the safe side:
Gaps — Should your sidewalk have a vertical gap, this could be a trip hazard. Bicycles, wheelchairs, or electric scooters could be prevented from passing by safely. Have a contractor patch the gap and smooth it out so that it is even. If there is a lot of damage, you could end up having to replace the entire sidewalk.
Vegetation — A neglected sidewalk can have weeds sprouting up everywhere. These are also considered a trip hazard.
Low Edges — If your sidewalk is lower than your curb it could become a water trap with a great deal of water pooling up. It may need to be elevated to achieve balance, as this is considered a leading cause of slip hazards when it rains.
Personal Possessions — Pick up any personal possessions such as toys, your hose, etc., that can cause people to slip and fall on your sidewalk.
Results of Sidewalk Injury
Know beyond any shadow of a doubt that if someone is hurt on your sidewalk, you are going to be held legally responsible, but your insurance company will probably defend you. Besides your basic sprains, broken bones and bruises, head injuries are also a common result of falls on sidewalks, and these can lead to all manner of complications. However, as stated, your insurance company will most likely come to your defense regardless of the circumstances.
Each homeowners policy issued has a clause that states that you have the right to a specific amount in liability coverage that will pay for your lawyers, settlements, and court fees. This comprises medical payments to the injured person and also lost wages.
To sum things up, the regulations vary for all states and communities concerning sidewalk maintenance. Furthermore, there are certain instances when even if you have liability insurance coverage, the insurance agency can deny your claim stating that you were aware the sidewalk presented a danger. This is the reason preventative measures are so essential, and you need to examine your sidewalk regularly for possible hazards.