Few things make a homeowner nervous like the idea of being held liable for medical damages. It seems there is a virtually endless number of ways for people to get injured on your property. Thankfully, your homeowner's insurance will cover costs associated with slip and falls, as long as it wasn't intentional. It doesn't quite explicitly cover slip and fall, but rather your insurance will likely cover general costs of liability, legal or medical, so long as certain conditions are met. A slip and fall, however, is likely to meet the criteria.
Liability Insurance Is the Part of Your Insurance Dealing with Legal or Medical Liability Costs
Liability insurance works a little bit differently than your typical dwelling insurance. Known also as "Section E," liability insurance is the part of your homeowners insurance that exists to protect you in the event that you are held liable for accidental damage – such as someone getting harmed on your property due to your negligence, or if you accidentally destroy somebody else's property, and get faced with a lawsuit. The key word is "accidental," your insurance won't cover purposeful acts of destruction.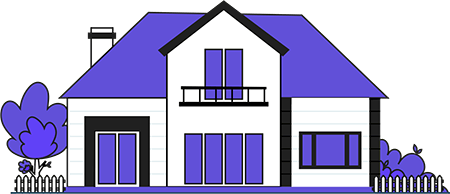 Compare Home Insurance Quotes
Save on your homeowners insurance premium by comparing offers from the best providers in your neighborhood.
Though the scope of the insurance might seem more abstract compared to your normal dwelling insurance, liability insurance is nonetheless just as important. It will not only protect you from medical liability, but extended liability insurance can also help with other accidental legal costs, such as defamation.
Liability Insurance Covers Very Important Things
The three main things that liability insurance will cover are the medical costs of bodily harm sustained on your property, the costs of damage done to another's property, and the legal costs associated with lawsuits over these things. You can purchase extensions, known as personal umbrella insurance, which can further cover lawsuits against things like libel or slander.
The catch for all of these things is that they MUST be accidental – purposefully harming somebody, knowingly neglecting something dangerous that results in bodily harm, or purposefully destroying something on somebody else's property, can be grounds for having coverage denied. The basis for this is the legal ruling, meaning that if in the course of a lawsuit, you are judged as having purposefully done any of these things, you will lose any liability coverage by your insurance.
There are other limits, however. Your liability insurance won't cover damage relating to cars, which will fall upon your car insurance. It also won't cover these liabilities if it relates to a business that you own, which will require its own separate liability insurance.
The Amount Covered Varies from Policy to Policy
Typically, you can expect to have three different degrees of personal liability coverage: $100,000. $300,000, and $500,000. Which one you have depends on what you negotiate when signing your policy, for most typical policies you'll find $300,000 is the default amount. The amount of coverage you should have depends on your lifestyle and property. If your property has a lot of risky elements such as a swimming pool, or you often have parties with people over, then it can be a good idea to get a higher liability limit. It's good to have a limit that exceeds your net worth.
If your net worth is much higher than $500,000, you can purchase umbrella insurance that extends the liability limit, which you should certainly consider if you require much higher coverage. Typically, the limits will start at $1,000,000.
It's Good to Avoid Accidents Before They Happen
Even though your insurance is likely to cover costs relating to a slip and fall, it's still good to be proactive and avoid having a slip and fall occur in the first place. If you have an area under construction, make sure it's clearly marked as being unsafe. You'll also want to make sure that all of your stairs feature an even height between each step, and that any rails going up the stairs are properly secured.
However, accidents are called accidents for a reason. It's important to stay prepared by having the right personal liability insurance. You should make sure to review your policy and get an idea of what is and what isn't covered, as the specifics can vary between policies, especially from different insurance agencies.