Homeowners' insurance policies cover smoke damage to your home and property, even when the fire isn't in your home. Your insurance policy can protect you if a fire happens near your home, even when it's a forest fire or a neighboring house fire.
Smoke and soot cause extensive smoke damage to your property and belongings and can make it unsafe to stay in your home. Smoke, soot, and ash have acidic properties that cause health problems, create odors, and corrode metals.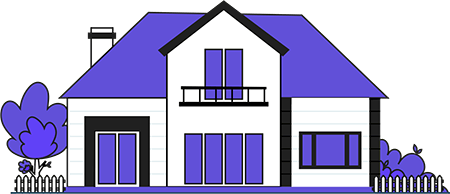 Compare Home Insurance Quotes
Save on your homeowners insurance premium by comparing offers from the best providers in your neighborhood.
No matter what the cause of the fire or smoke damage is, if you need to file a smoke damage insurance claim, there are key steps you should take to care for your property and family's health properly.
Key Takeaways
The homeowners policy will cover chimney repairs if the damage is caused due to a covered peril outlined in the policy.
Covered perils typically include storm damage, falling tree, lightning, fire, snow, and ice.
Policies will not cover repairs if the chimney is already rundown, unmaintained, or damaged in some way that was outlined in the policy.
Smoke Damage Insurance Claims
Your homeowners' insurance policy covers you from smoke damage and other events that can happen outside your control. Adverse events that can damage your property are known as named perils, including things like fire, vandalism, and theft.
You should file a claim immediately after the smoke damage occurs. Your insurance company needs time to determine the cause and assess the damage.
The only time your insurance policy won't protect you is if the fire is an intentional act by you or someone else named on your policy.
Contact a Professional Smoke Cleaning Service
The restoration process can take several days. Smoke damage requires cleanup from specialists in smoke restoration, and it's imperative to start the cleaning process as soon as possible.
Not all types of smoke damage are the same, and only a professional cleaning service will know the proper way to treat your home and belongings when they are damaged by smoke.
After contacting your insurance company, you should call a professional smoke cleaning service company as soon as possible. If it's safe to enter your building, you can inspect the damages, but don't try to clean it yourself.
Fire damage can be more extensive than it appears. Everything in your home will be affected, including appliances, furniture, and curtains. Smoke can cause odors, discoloration, and hazardous chemicals.
Smoke, soot, and ash can damage your property's landscaping, pools, hot tubs, and other structures. Ash can enter drainpipes, causing them to clog, and your heating and air conditioning systems can be damaged by soot and ash.
Until you know the extent of the damage, you could make things worse by trying to clean it up yourself.
Document the Extent of the Fire Damage
You must document as much as possible when you need to file a smoke damage insurance claim.
Take pictures and note the dates and locations of damages. Also, document any injuries related to the claim, list everyone involved, and include any police or fire department reports.
Thoroughly describe the condition of your home and the extent of the damage to your belongings. If possible, have your restoration company provide you with a complete report and damage assessment.
Keep everything related to your claim in one place, and continue to add to your documentation every time you have a conversation with your insurance company, adjuster, or restoration company.
The Extent of the Fire Damage
Whether or not you can save your belongings depends on how extensive the damage is.
If the smoke damage is bad, it can even mean that your drywall will need to be pulled down and replaced to allow the smoke trapped in the walls to escape.
It's critical to have professional assessments to determine the extent of the fire damage. They can even help you decide what items are salvageable after a fire. Here is a list of common items that can often be cleaned and restored after smoke damage has occurred:
Anything non-porous, such as porcelain, glass, or metal, can be restored.
Clothes, curtains, and furniture, if they are properly cleaned, can be salvaged.
Appliances can be recovered, but check the wiring to ensure it wasn't damaged.
Stainless steel is easy to clean and restore.
You might have to throw away your wood furniture if the damage is extensive. You should also throw away any food, open containers, food that came in contact with fire extinguisher chemicals, and anything else that has been contaminated.
Avoid Health Risks Caused by Smoke
It's important to remember that smoke can be full of toxic compounds, which can stay in your home after the fire is put out.
It's impossible to see the smoke particles that hang in the air, and you can't tell what the chemical makeup of smoke is. It can cause difficulty in breathing, irritation to your skin, and damage to your lungs and sinuses.
Depending on the type of smoke in your home, the health risks from smoke in your home can be severe.
Check Your Insurance Policy
Your homeowners' insurance policy will cover your property and belongings from smoke damage, but you must do your part when you file a claim.
Seek professional assistance in determining the extent of the damage, including help finding hidden damages to drainpipes and walls. Be prepared to experience delays when coordinating between your insurance company, adjuster, and restoration service.
Also Read: