What happens if your laptop is stolen from your house? What about your TV, or that expensive piece of jewelry you just got for your birthday? If you have homeowners insurance, you may be covered. Read on to learn more about what is and isn't covered by homeowners insurance in the event of a theft.
The Coverage
Your homeowners insurance policy covers your personal belongings in the event of a theft, but there are limits to how much coverage you have. Most policies will cover up to $500 worth of stolen items, but some may only cover up to $250. If you have expensive items that are worth more than your policy limit, you may want to consider purchasing additional coverage, also known as a personal property endorsement.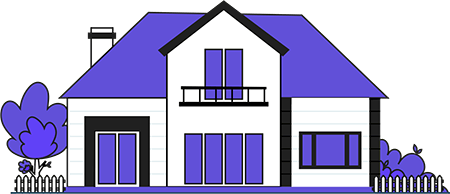 Compare Home Insurance Quotes
Save on your homeowners insurance premium by comparing offers from the best providers in your neighborhood.
What's Not Covered?
There are some items that are typically not covered by homeowners insurance, such as collectibles, computers, and electronics. If you have these types of items in your home, you may want to consider purchasing a separate policy to insure them. Additionally, if you have a home-based business, your homeowners insurance policy will not cover any business-related equipment or inventory that is stolen.
How to File a Claim
If you need to file a claim for stolen items, contact your insurance company as soon as possible. You will need to provide a list of the items that were stolen, as well as their estimated value. Your insurance company may also require a police report. Once your claim is approved, you will be reimbursed for the value of the stolen items, up to your policy limit.
How to Protect Your Home From Stealing
There are a few things you can do to protect your home from thieves.
Lock Your Doors and Windows
Make sure all of your doors and windows are locked, even when you're home. Many thieves will simply walk into an unlocked door or window to gain access to your home.
Install a Security System
Install a security system and make sure it's set up properly. A home security system is one of the best ways to deter thieves.
Keep Valuables Out of Sight
Don't leave valuables in plain sight. If a thief can see something they want, they're more likely to break into your home to get it. Keep expensive items like jewelry and electronics out of sight and in a secure location.
Install Motion-Activated Lights
Motion-activated lights are a great way to deter thieves. If a thief sees a light come on when they approach your home, they're less likely to try to break in. However, thieves are pretty familiar with this one and can often recognize motion-activated lights and not be scared when they turn on. It's still good to have.
Keep Your Yard Clear
Thieves often look for homes that are easy to break into. If your yard is overgrown and there are hiding spots around your home, a thief is more likely to target you. Keep your yard trimmed and clear of debris to make it less inviting to thieves.
Get a Safe
If you have items that are valuable but can't be replaced, such as family heirlooms or important documents, keep them in a safe. That way, even if your home is broken into, those items will be protected.
Make It Look Like Your Home
When you're away on vacation, make it look like your home. Leave a light or two on and have someone check the mail for you. Keep the TV on and keep a car in the driveway. Maybe ask a neighbor to park their car in your driveway temporarily. A thief is less likely to target a home that looks occupied.
By following these tips, you can help protect your home from thieves. And if something does happen to get stolen, you may be covered by your homeowners insurance policy.
Final Thoughts
While homeowners insurance does cover stolen items, there are some limitations to what is covered. Be sure to contact your insurance company if you have any questions about your coverage. Above all, take steps to prevent theft by keeping your home secure.