Few things are worse than being subjected to burglary. Not only can it be traumatic to have your possessions rifled through, but then you have the added stress of replacing items and repairing the damage done by burglars. It can all be a real headache. Luckily, your homeowners insurance will cover stolen property. It will even cover damage to your property done by burglars! Of course, as with all things related to home insurance the devil is in the details, however, you can generally expect some amount of compensation by your insurance for the theft of your possessions and destruction of your property.
The Extent of Coverage Depends on Your Insurance Policy Type
Your policy will only cover certain kinds of damage, and of the damage, it covers it will only compensate so much. Your home insurance will have different categories for all of the different parts of your property, and these categories will have different kinds of compensation. For example, how your personal property is treated will be different than how damage to your house is treated, and these can be different from how damage to a garage or shed might be treated.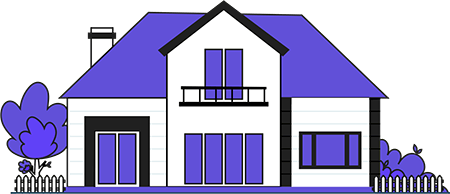 Compare Home Insurance Quotes
Save on your homeowners insurance premium by comparing offers from the best providers in your neighborhood.
In the world of insurance policies, you have two standard policy types: HO-3 and HO-5. They are largely the same, but they differ in two major ways: their coverage of personal property, and how much value they will insure. With an HO-3 policy, your house will be covered from all damage, except for causes that are explicitly listed in your policy. Your personal property, on the other hand, will only be covered by a select few causes of damage that are outlined in your policy. This means that your personal property will be less covered from damage than your house is, if you have an HO-3 policy.
An HO-5 policy will cover your personal property in a similar way to your house: all causes of damage are covered, except those named in a list. Additionally, the amount covered will be increased. HO-5 policies are particularly ideal for those who own a lot of expensive items, such as art or expensive electronics.
No Matter Which Type You Have, Theft Will Be Covered
Theft is almost always covered by your homeowner insurance, regardless of whether you have an HO-3 policy or an HO-5 policy, with the only major difference between the coverage being the amount that insurance will compensate.
An important aspect of burglary is the physical damage done to the property during the crime. It's not uncommon for burglars to physically break into the house, or to vandalize things inside of your house. Thankfully, a lot of this sort of damage will be covered by your insurance, regardless of which type of policy you have. Whether it's a broken window, broken door, or purposeful defacement of your walls, your insurance will cover the cost of repair.
This often extends beyond just the house itself: if you also find a shed or garage vandalized, you can expect your insurance to cover the repair costs as well. Of course, the particulars will always depend on your specific policy, so always make sure to check your policy to learn the specifics of what is or isn't covered.
There are plenty of things vandals could do that likely won't be covered by your insurance. If they were to damage or destroy your car, for example, it is unlikely your home insurance will cover that to any degree, including items stolen from your car. Coverage for this will instead fall under the personal property protection of your car insurance. Your insurance is also unlikely to cover arson that is committed due to vandalism unless it can be proven that the fire was started accidentally by the criminals.
Thankfully, burglary and vandalism coverage is one of the more forgiving parts of a home insurance policy. If you get burglarized, you'll want to make sure you file a police report that goes into the specifics of what items are stolen and what damage was done, as this kind of evidence will be required by your insurance to accept a burglary claim. If you have particularly expensive items, it might be worthwhile to also have them appraised by your insurance so you can guarantee extra protection in the event of their theft.
Also Read: