When it comes to storms damaging your home, it is important to consider the multitudes of ways different aspects of storms can cause various types of damage to your home. Let's look at how homeowners insurance coverage applies to damage from various types of storms.
Hail Damage
Hail is covered under most insurance policies as hail damage to roofing is a very common insurance claim. There are some specifics in regards to shingle damage that you may want to look out for when going to file your claim.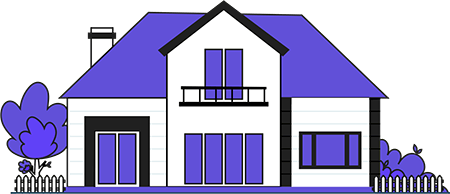 Compare Home Insurance Quotes
Save on your homeowners insurance premium by comparing offers from the best providers in your neighborhood.
When it comes to hail damage and your insurance covering the cost of new roofing, you will want to make sure that the fine print of your policy and the damage to your roof match up. Your policy may stipulate that the roof repairs will be covered only if the hail has damaged the shingles to the point of them not adequately dispelling water or if the damage has reduced the lifespan of the shingles. Make sure to check your policy for these specifics.
Wind Damage
When it comes to wind damage to your home, this wind includes not only the typical thunderstorm wind damage, but it also typically covers tornadoes, hurricanes, and winter storms. As with hail damage being covered in insurance policies, there are some variations in the fine print of different homeowner's insurance policies that may exclude coverage or include less coverage that may go towards wind damage repairs.
Rain and Flood Damage
Water damage caused by storms is where coverage can get pretty specific and sometimes even a bit tricky. The problem with rain and flood damage is that under most homeowners insurance policies, the only water damage that is covered has a different cause. Water damage inside the home that is caused by a malfunction such as a leak or an accident is more likely to be covered under the majority of insurance policies.
However, when it comes to water damage caused by bad weather, you may run into issues getting the damage covered by your original insurance policy. This is why it is often necessary, depending on where you live geographically, to purchase additional flood insurance to be sure that in case of flood or internal water damage caused by external forces, you are completely covered.
Preventing Some of the Damage Before it Happens
When dealing with bad or extreme weather and the havoc it may wreak on your home, the first step in easing some of the worries is to take steps to prevent the damage before it can occur. To prevent damage, before a damaging storm comes through, make sure you pick up any large tree limbs, outdoor furniture, gardening tools, or toys that may be picked up by the wind and come in contact with your house. You may also want to inspect your siding and roofing to spot any weak spots where leaks may get through or where wiring may be exposed to the elements. Following these steps could prevent a lot of the costly damage that thunderstorms cause.