The thunder rolls and the lightning strikes, and now a tree fell onto your house and you have branches where your breakfast bar once was. Unfortunately, the issue is far more pressing than needing that cup of coffee and muffin. In general, a basic home insurance policy only offers coverage for covered events and does not cover structural damage brought on by a lack of maintenance. 
You may be able to receive some compensation from other clauses or add-ons to your policy. These are based on what led to the damage, what was damaged, and how to respond to said damage.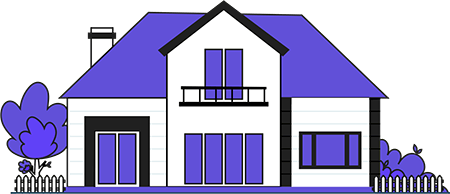 Compare Home Insurance Quotes
Save on your homeowners insurance premium by comparing offers from the best providers in your neighborhood.
What Is Structural Damage?
Structural damage is any damage that impacts the core integrity of your home. Damages to the structure of your home may cause your home to collapse, fall apart, or experience other major structural failures. Structural damage can happen anywhere in your home but is mostly limited to your roof, walls, foundation, and load-bearing walls.
What Is Not Covered by Homeowners Insurance?
Insurance companies assume that any maintenance or routine repair is the responsibility of the homeowner. Because a large portion of structural damage incidents could have been prevented with routine maintenance, structural damages brought on by a lack of maintenance are not covered.
Insurance agencies also assume that in general foundation expenses (such as foundation sinking) are on you. As a home buyer, insurance agencies believe that you should be aware of any structural issues when you make the purchase of your home.
Other events that are not covered by your homeowner's policy likely include damage brought on by floods and earthquakes. These two events can be added to most policies for an additional premium to your normal monthly bill.
What Does Homeowners Insurance Cover?
In most cases, home insurance covers damages and unexpected costs brought on by fire, smoke, lightning, wind, hail, theft, and vandalism. Insurance companies know that these events are unavoidable, abrupt, and unplanned and therefore assume the risk of these events happening in your premium. If structural damage occurred because of one of the above events your policy should cover some of the corresponding damage to your home.
If structural damage was brought on by an event that was not covered, you may receive no compensation from your policy.  However, you may receive some financial compensation under different clauses or add-ons to your homeowners policy.
Dwelling Coverage
If you receive coverage from your policy for structural damage, it is likely coming from any dwelling coverage you have. This portion of the coverage is responsible for the structure of your home. What is covered under dwelling coverage has the same limitations and exclusions under your home insurance policy. This means that to expect compensation from this portion of the policy, any structural damage should be caused by a covered event and did not occur because of a lack of maintenance.
Personal Property Coverage
Personal property coverage isn't going to replace your drywall or floors. This coverage however will provide compensation for your personal property in the event it gets damaged. This can include your favorite coffee cup that is now shattered because a tree is now in the space where your cabinet should be, or your favorite cookbook that is now waterlogged. Personal property coverage is not limited to low-cost items and it may also go towards some of your high-end appliances. While this coverage is great in the event of any damage to your personal property, this amount of total coverage is limited and likely will not cover the cost of replacing everything.
Additional Living Expenses (ALE) Coverage
In the event of major structural damage, your home may not be safe to live in. You might also simply not want to be there when there is a giant whole in the wall and contractors are there nonstop. ALE coverage helps compensate for expenses that come from being forced out of your home. This coverage goes towards hotel bills, restaurant costs, and other expenses that you would not normally have living in your home.
Additional Options
If your policy does not have any dwelling, personal property, or additional living expenses coverage, you may want to consider adding them on. You may also choose to add on a rider to your policy or purchase an umbrella policy.