Most times, the answer to if homeowners insurance covers stucco damage creates more questions.
It gives questions like, were the contractors licensed? And what type of damage; is it water or storm damage?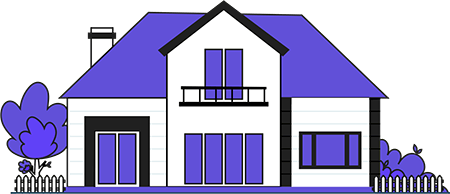 Compare Home Insurance Quotes
Save on your homeowners insurance premium by comparing offers from the best providers in your neighborhood.
The truth is that homeowners insurance covers stucco damage if a licensed contractor installs it, and the damage happens after the insurance policy is bought.
Want to know more about homeowners insurance cover regarding stucco damage? Read on!
About Stucco
What's Stucco? It's a kind of exterior cladding for businesses and houses used since the 1900s.
It consists of silica, cement, and limestone used to design a thin and decorative layer in homes to insulate.
In recent years, the process of applying stucco has been perfected. It's now a sought-after solution for homeowners who wish to have curbside appeal and cost-effective options.
Unfortunately, stucco has its downside. It's giving issues for many homeowners, especially American homeowners.
As a natural product, stucco can be porous and soak up much moisture, particularly when it isn't installed appropriately.
It mostly goes in one direction- with time, a homeowner finds that its stucco is faulty and has created significant damages.
This raises questions like, "does a homeowner's insurance cover stucco damage?"
Home Insurance and Stucco Damage: What You Should Know
Yes, home insurance can cover stucco damage, but there are exceptions.
In other words, you may think the insurance company would take care of the stucco repair expenses, but it isn't always the case.
Some factors determine if your homeowner's insurance can cover the stucco damage. They include:
1. The Kind of Stucco
The kind of stucco on the house's exterior determines if your insurance would cover the repairs.
In particular, the EIFS (Exterior Insulation and Finish System) is a popular kind of synthetic stucco that can be installed by only a certified and licensed professional.
Your insurance wouldn't cover the stucco damage cost if an uncertified contractor installed the EIFS stucco system.
2. Is It Water or Storm Damage?
The type of damage, whether water or storm damage, affect your homeowner's insurance coverage.
The insurance might not cover water-related repairs because the damage only happens when your contractor inputs the siding without appropriate training.
On the other hand, if the stucco siding faces damage from wind, fire, or hail, the insurance policy may cover the repairs.
3. The Contractor of the Siding
Another factor is the contractor that installs the siding. Be sure to consult a reliable contractor to install the siding since it affects the repairs insurance coverage.
When a licensed and experienced contractor installs your EIFS stucco, you'd most likely receive insurance protection or compensation.
You can't make an insurance claim if you allow an uncertified contractor to install your siding.
Note: If you notice any damage to your stucco shortly after being installed by a licensed contractor, your home insurance policy should take the claim.
Aren't Covered? Here Are Alternate Financing Options
Don't worry if your insurance policy doesn't cover the stucco siding repair. Here are other options to help you navigate and pay for the stucco siding task:
Home Equity Line of Credit
You can use your house equity as collateral for the stucco repairs. For this, a home equity line of credit will provide you with tax advantages, low-interest rates, and no additional fees.
Cash-Out Refinance
You can take equity from your house and refinance the mortgage to pay for the siding replacement or stucco repair.
You can extend your Cash-Out Refinance term for 30 years to get the least payment good for the new mortgage.
Short-Term Private Quick Cash
Consider looking for private lenders to help you with the assistance. Start by asking your remodeling contractors if they have anyone to link you up.
Note you can only use this option if you can't qualify for a conventional mortgage loan and want funds to begin the repairs.
Final Say
Several stucco claims are rejected based on bad installation, especially if you couldn't offer evidence of hiring a certified professional.
So, ensure you hire a licensed contractor so your stucco repairs would be covered by the homeowner's insurance.
However, don't fret if your claim is turned down because you can explore legal avenues. You can hire a lawyer to sue the contractor, builder, or insurance company as the case may be.
You can also follow the above-mentioned alternate financing options.