When a covered peril renders your home uninhabitable, your homeowners insurance company pays for temporary housing while it works to restore your home to its former condition.
Imagine a tornado tears through your neighborhood and smashes into your home. The kitchen is wrecked, the family room obliterated, and the roof partially gone. With the plumbing and electricity also disabled, the house is uninhabitable.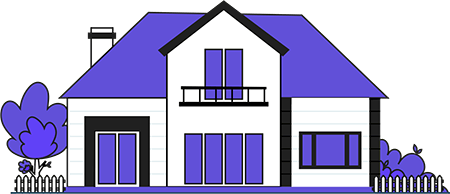 Compare Home Insurance Quotes
Save on your homeowners insurance premium by comparing offers from the best providers in your neighborhood.
Repairs may take many months.
Where is your family to stay? Renting a temporary apartment or staying at a hotel costs a small fortune. However, you have enough to worry about without thousands of dollars of extra costs added to the disaster.
The costs of alternative housing while crews rebuild your home are paid by your homeowners insurance policy, provided your policy includes temporary living coverage.
When Does Temporary Living Coverage Apply?
Two factors must be in play for temporary living coverage to apply:
The damage must result from a covered peril
Your domicile must be uninhabitable
What Is a Covered Peril?
Covered perils consist of specified, unforeseen events that damage or destroy your home. For instance, a hail storm that damages siding or roof shingles meets the qualifications of a covered peril. It is an unpredictable event that the insurance policy is designed to protect the policyholder against.
Many covered perils can result in a home becoming uninhabitable, including the following:
Fires
Storms
Tornadoes
Lightning strikes
A vehicle colliding with your home
A gas leak
A pipe burst
A sewage backup
An explosion
Anyone of these covered perils can trigger temporary housing coverage, provided the damage is extensive enough for the insurance company to declare the home uninhabitable.
What Makes a Home Uninhabitable?
Uninhabitability is obvious in certain cases, such as when a tornado or fire completely or severely devastates a home. Other times, the line between habitable and uninhabitable may depend on the circumstances. For instance, a burst pipe may cause moderate damage, and though the affected areas may need repairs, the domicile remains habitable. On the other hand, the burst pipe may have resulted in mold that creates a health hazard, rendering the domicile unsafe.
If your home has been damaged and you are concerned about its habitability, contact your insurance agent right away.
What Is Temporary Housing?
Even a short stint in a hotel or extended stay accommodations leads to a hefty bill. Paying for long-term temporary housing in addition to a mortgage is out of reach for most families. For that reason, temporary housing coverage can become a lifesaver.
Temporary housing coverage handles more than the cost of alternative shelter. This comprehensive policy benefit pays for additional costs that go with being displaced from your home, such as the following:
Temporary shelter, such as a hotel, extended-stay hotel, or furnished apartment
Additional food expenses, including restaurant meals while living in a hotel
Storage charges for items moved from home
Transportation expenses
Utilities at the temporary home
Moving costs
Parking costs
Laundry expenses
Insurance companies intend these benefits to cover the cost difference between living in the uninhabitable home and temporary housing.
Temporary Housing Coverage Limits
Most policies base the temporary housing coverage limit on a percentage of dwelling insurance. For instance, if the temporary housing limit stands at 20% and the dwelling coverage limit is $200,000, the limit is $40,000.
Many disasters leave families homeless. For example, tornadoes, hurricanes, and fires can immediately leave a family with no place to go. In those situations, temporary housing coverage comes to the rescue. The insurance company puts the family into temporary housing, covers the bills, and reimburses them for increased expenses due to being forced from their home.