Homeowners insurance does exactly what it sounds like: it protects your home for you, the homeowner. If at some point you decide to rent out your home, the question of whether my homeowners insurance extends to my tenants comes up. The short answer is that if you want to insure your home to protect it from tenant damage you need to get landlord insurance. 
It is very rare that a homeowners policy will provide coverage for tenant damage. To be on the safe side it is best to make sure that your home is properly insured with landlord insurance. In order to determine if you need landlord coverage you should also consider: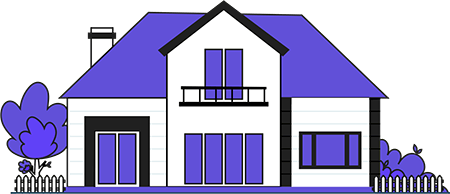 Compare Home Insurance Quotes
Save on your homeowners insurance premium by comparing offers from the best providers in your neighborhood.
Who is renting your home?
How long will your home be rented?
The differences between renters, homeowners, and landlord insurance.
Who Is Renting in Your Home?
Depending on your insurer, the relationship between you and your tenant is a factor when it comes to coverage and who caused damage. If your family member is just staying in your home while you are there, they are not considered to be a tenant under home insurance. If you are renting to a family member, you may be able to get some compensation, but more realistically, homeowners insurance typically doesn't help to cover tenant damage. 
How Long Will Your Home be Rented?
Most policies take consideration into how long a home is being rented. Rentals that are only rented for under thirty days are classified as short-term rentals (think Airbnbs). If you are a homeowner and are looking to turn your home into a short-term rental for business, you will need to obtain business insurance.
Homes that are rented for anything over thirty days are typically considered long-term rentals. 
Homeowners vs Renters vs Landlord Insurance
Each form of insurance provides financial protection for a different set of things. There is limited (if any) overlap of coverage between these different types of insurance. For this reason, it is wise to have a policy in place for whatever your needs are for you and your home.
Homeowners Insurance: Protects Homeowners Living in Their Home
Homeowners insurance protects the home and the homeowner if they are living in the home at the time. For each individual policy, there are set covered perils, exclusions, and considerations for your home and needs. Most policies have the same covered perils which are damages brought on by:
Fires or smoke
Theft or vandalism
Weather (such as lightning, hail, and wind)
Typical events and damages that are not covered by homeowners insurance include:
Pests and rodent infestations
Floods and earthquakes
Damages brought on by a lack of maintenance and care
The exclusions and covered events for homeowners insurance are fairly consistent with other forms of insurance unless that policy goes towards one of the noncovered perils (for example, flood insurance for flood damage).
Renters Insurance: Protects Renters
If your renters would like to protect their belongings they must get renters insurance. Some landlords require renters to get their own insurance, but the only way to protect their possessions and other damages is to have their own renters insurance policy. If you are a renter it is also wise to have this type of insurance because it can protect you from legal liabilities if they arise.
When it comes to damage done to the home, renters insurance typically protects for covered events outlined in a homeowners insurance policy. If you live in an area that is prone to certain natural disasters, it is wise to have insurance for those events. The most common example of this is flood insurance for locations that are prone to flooding.
Landlord Insurance: Protects landlords
If you are not living in your home and you choose to rent it out, you get a promotion to being a landlord. As a landlord, your home no longer has the same protections you had while living in your home. To insure and protect your home with renters in it, you need to have landlord insurance. For most policies, landlord insurance will help to cover loss of rental income, loss of use, and most importantly the structure of the building.