The cause of the overflow answers this question. Toilet overflows caused by the negligence of the resident or property owner, such as overstuffing the bowl with toilet paper, are unlikely to be eligible for coverage. However, hopefully, the spillage is limited to the bathroom, and the damage is minor. On the other hand, a sewage backup resulting in a toilet overflow is usually covered. In addition, some mechanical malfunctions of the toilet are also eligible for compensation.
Negligence
Toilets can overflow simply because the demands placed on them are too high. For example, if you bought an inexpensive toilet with a small flushing capacity, it's important not to flush large amounts of toilet paper. In addition, avoid flushing products not meant for the toilet. Instead, place those in a garbage pail.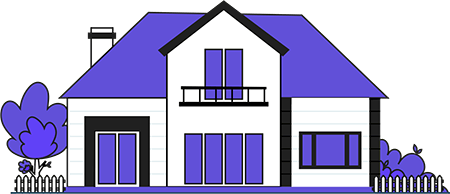 Compare Home Insurance Quotes
Save on your homeowners insurance premium by comparing offers from the best providers in your neighborhood.
Your homeowners insurance is unlikely to pay claims for toilets stuffed full of objects that should not be in the sewer lines in the first place.
In addition, if you failed to maintain your toilet correctly, damage from an overflow may also be at your expense. For example, if the toilet was chronically failing to flush correctly and then overflowed, the insurance company will likely conclude the damage occurred because you ignored a maintenance issue, resulting in a claim denial.
Sewage Backups
Sewage backups occur because the water lines become clogged with debris. Homeowners insurance policies usually cover these types of accidents. For example, leaves and other tree debris can cause sewage lines to become clogged. If the obstructions become severe enough, sewage water could back into your home, causing severe damage.
The key here is that the sewage backup was caused through a natural occurrence or everyday sewage line use. However, if the lines became blocked because of owner negligence, an insurance adjustor may deny the claim.
Floods
Standard home insurance policies exclude flooding from coverage. So if a flood from a nearby body of water, for example, resulted in your toilet overflowing, a homeowners policy would not pay for the damages.
However, you can purchase special flood insurance for this type of instance. Flood insurance policies are necessary for homeowners who live in areas prone to these disasters. You can buy a flood insurance policy from the National Flood Insurance Program (NFIP). Congress created the NFIP in 1968. It covers more than 22,100 communities and underwrites 5.1 million policies nationwide.
What Does the National Flood Insurance Program Cover?
NFIP flood insurance offers two coverage types: building and personal property. You can buy building-only coverage, contents-only coverage, or both. Since a flood is likely to damage the structure and destroy property, most insurance pros recommend purchasing both.
In addition, NFIP flood insurance is divided into coverage for "elevated floors" and areas below them, such as basements, crawlspaces, walkout basements, and any enclosed space on a ground level that sits underneath an elevated building.
How much coverage you need depends on whether you have square footage beneath the elevated level and your home's layout. Also, if you have taken a mortgage through a federally backed program, such as an FHA loan, flood insurance is mandated in certain locations. Also, mortgage companies require flood insurance for some locations.
No one wants to experience the unpleasantness of a toilet overflow. However, most are minor and can be solved with a plunger and the application of bleach to break up clogged toilet paper. On the other hand, toilet overflows caused by sewage backups or floods could result in severe home damage. Luckily, homeowners insurance covers damage from sewage backups, and supplemental flood insurance pays for flood-related toilet backup damage.