Here's an unusual question that you probably haven't thought of concerning your homeowners insurance. If you are the owner of a trampoline, taking into account the risk of injury when such an item is in use, you may be left wondering if your homeowners insurance will provide coverage at the moment trampoline damage occurs.
As most homeowners insurance policies do not spell out the answer to this, you may find yourself contemplating if your dwelling coverage also extends protection to the trampoline. Will it provide personal liability coverage for injuries sustained while the trampoline is in use? Does owning a trampoline raise the cost of your homeowners insurance?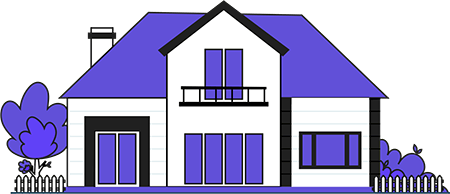 Compare Home Insurance Quotes
Save on your homeowners insurance premium by comparing offers from the best providers in your neighborhood.
Even though it may seem a minor issue at the time of purchasing that trampoline, you do need to be aware of where you have protection and where your insurance may be lacking.
Does Homeowners Insurance Cover Trampolines?
Well, that's up to your insurance company and its claim experience with trampoline damage. Normally, insurance companies handle trampoline coverage by one of three methods:
No exclusions — If your homeowners insurance company permits you to have a trampoline with no exclusions, that indicates that your insurance coverage will be apt to cover you for injuries. It would be up to your liability coverage to pay for injuries if a guest is hurt while using your trampoline, or in the case of strong winds blowing your trampoline into your neighbor's house and you are found liable for not anchoring it correctly. Still, it's a good idea for you to contact your agent and make sure you have coverage for a trampoline before you put one up in your backyard.
Specific circumstances coverage — There are a lot of homeowners insurance companies out there that will only provide trampoline insurance coverage if the homeowner takes certain precautions, such as placing a high fence around the trampoline or putting down mulch or sand rather than concrete around it. However, many insurance companies label trampolines as attractive nuisances, which means that they could very well attract a child who could possibly injure themselves while on a trampoline. Due to this factor, you may be required to meet specific safety requirements.
No coverage — Due to the greater risk factor that trampolines present, many insurance companies exclude coverage for trampolines and it is written into your policy. This doesn't just mean that any accidents that happen on or because of your trampoline will not be covered, but it can additionally mean that your insurance company will not renew your policy while you still have the trampoline. It is highly advised that if you can't get insurance coverage, you don't buy a trampoline.
Of course, you could decide to just not inform your insurance company that you have a trampoline, but it is always best to be honest about things. Withholding such information is considered misrepresentation and can sometimes lead to your insurance company canceling a policy or rejecting a claim.
Under What Circumstances Are Trampolines Covered?
If you have a policy with no exclusions for trampolines or that will provide coverage if you put the proper safety measures into effect, there are a few instances in which your home insurance might cover you:
Storms and Covered Perils
In the case where your trampoline is damaged or destroyed entirely due to a fire, violent storm, hurricane, etc., your personal property coverage will probably pay to replace it in most cases.
Let's say that a powerful wind whips up and lifts your trampoline up in the air and sends it crashing into your neighbor's house, car or fence, then your homeowners insurance may cover the damages. If it turns out that you are found to have been negligent in not correctly anchoring the trampoline, then your liability insurance might cover the damage up to the limits stated in your policy. However, if you had the trampoline securely anchored and powerful winds blew it away while there was a severe weather event going on, this could be declared an "Act of God," which means that you had no way of keeping it from happening and thus will not be held liable for the loss.
Theft or Damage
Your personal property insurance should give coverage if your trampoline is vandalized or stolen, but that is only if your policy lists amounts of coverage for the trampoline.
Injuries
This is the most common question asked concerning homeowners insurance and trampolines. That's understandable as trampoline injuries send an average of 100,000 people to emergency rooms every year.
If a family member is injured on the trampoline, you will probably have to use your own health insurance to pay for the medical bills. However, if a guest should get hurt, then the medical payments to others or liability coverage that is contained within your homeowners insurance policy could help pay the resulting medical bills.
What Does Trampoline Insurance Cost?
There is no such thing as trampoline insurance by itself. But your homeowners insurance policy should provide you with trampoline insurance coverage, as long as your insurance company does not specifically exclude trampolines from being covered. Furthermore, for some insurance companies you can be expected to meet certain requirements such as installing a perimeter net, in order to receive coverage. You also should know the limit of your personal property coverage and if it will cover the expense of replacing your trampoline, or if you should buy an endorsement to be certain to have enough replacement coverage.
Does owning a trampoline raise your homeowners insurance rate? Perhaps, depending on who your insurer is. Certain insurance agencies will raise your annual premium in order to pay for the additional liability a trampoline brings with it.
That's why before purchasing a trampoline for your backyard, you might want to consult your insurance agent to find out how much more will be added to your premium.
Trampoline and homeowners insurance questions almost always go hand-in-hand because of the intricacies of the policy. You need to comprehend how trampolines or other attractive nuisances can affect your coverage prior to making the purchase. But usually, your homeowners insurance will not leave you unprotected, but will provide some type of coverage for trampoline issues.