Home insurance policies cover damage that happens suddenly and accidentally. However, tree trimming relates to neither a sudden or accidental occurrence that results in damage to a covered part of the property. Instead, tree trimming is a maintenance item, and homeowners must bear the expense themselves.
What Are Maintenance Items?
Maintenance items are the run-of-the-mill expenses homeowners should expect. However, they include issues both in the home and yard. For example, inside the home, maintenance items include malfunctioning furnaces or appliances. Over time, homeowners can expect these machines to need repairs.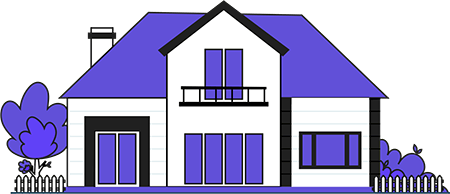 Compare Home Insurance Quotes
Save on your homeowners insurance premium by comparing offers from the best providers in your neighborhood.
Outside the home, tree trimming is a maintenance issue analogous to repairing an appliance. Tree limbs grow over time, so it's obvious that occasional trimming of branches must be performed. Therefore, the homeowners bear the cost.
Is Tree Trimming Ever Covered By Home Insurance?
Home insurance may cover tree trimming if it coincides with a covered peril. Covered perils are the sudden, accidental events that home insurance policies are meant to handle. For example, if a storm damages trees in your yard and they need trimming as a direct result, your home insurance may cover the damage because it was related to a covered peril.
The Definition of a Covered Peril
Home insurance companies define covered perils as sudden and accidental events. They differ from maintenance items in that they are not expenses that can be expected as part of a maintenance budget. Instead, they are events that cause casualty losses without forewarning.
Storms are some of the most common covered perils. No maintenance program can prevent storms from occurring. When they do, they strike with little warning. Thunderstorms, tornadoes, and hurricanes are examples of covered perils, though hurricanes are a special class that often comes with restrictions.
Fires serve as another example of covered perils. They start suddenly due to an accident, such as a malfunctioning appliance, lightning strike, or dropped candle. No maintenance program can prevent fires.
Thefts are another covered peril. Home burglaries occur without warning, and you cannot prevent crime through home maintenance.
Is Tree Damage Covered Under Homeowners Insurance Policies?
Tree damage is covered under a homeowners insurance policy if caused by a covered peril. However, many instances of tree damage have nothing to do with covered perils.
For instance, trees often die due to diseases. When diseases destroy your trees, you bear the responsibility for their removal. Dead trees are an expected occurrence. In addition, they rarely happen suddenly. As with dead plants, they sit in the landscape maintenance category.
However, it is covered if a tree falls because of a covered peril. For example, if a lightning strike destroys a tree, then your homeowners insurance will pay for its removal.
How Much Does Tree Trimming Normally Cost?
Many factors contribute to the cost of trimming trees, with height and the type of foliage being two of the most important. For example, trees up to 25 feet high cost between $250 and $750 to trim, with the range dependent and how much foliage must be removed.
Taller trees can cost up to $2000 for trimming work. The cost can be significantly higher when the tree has awkward and difficult branches to reach.
Several techniques exist for reducing the costs of tree trimming. For example, the utility company will cut branches hanging over power lines for no charge. Where no power lines are involved, you can save money by signing up for an annual tree maintenance program. In addition to saving money, these scheduled trimmings ensure that your trees stay in excellent condition and that you avoid branch collapses that can cause property damage or injuries.
Tree trimming is one of those maintenance items homeowners must account for in their budgets. Branches grow and eventually will need to be trimmed to prevent them from hanging over your home or pushing up against the walls or windows. In most cases, homeowners insurance does not cover tree trimming. An annual tree maintenance program is your best bet to save on this expense.