One of the most basic risks that homeowners face is vandalism to their property. You may be aware that homeowners insurance covers other standard pitfalls, like fire, hail, or theft. Fortunately, vandalism also falls under the blanket of protection that home insurance offers.
Homeowners insurance considers the damage that could be caused to personal property, even when it's cruelly man-made. This means you will be financially protected from several acts of vandalism as it applies to your house and other structures on your property.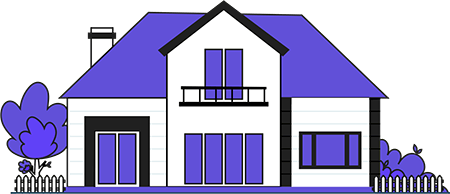 Compare Home Insurance Quotes
Save on your homeowners insurance premium by comparing offers from the best providers in your neighborhood.
Keep reading to find out more about what this means, and what you should acknowledge under these terms.
What Is Vandalism?
Vandalism is the act of deliberately defacing or otherwise destroying your property. This is commonly interpreted from broken windows, glued locks, or any other purposeful damage inflicted on or inside a property.
Insurance companies follow this term closely. They want to help policyholders if their property is damaged without their consent or will. As a result, home insurance companies consider vandalism one of the essential perils named in an insurance policy.
What Types of Vandalism Are Covered by Homeowners Insurance?
To insurance companies, vandalism involves a range of circumstances. For starters, your personal property is covered. This includes:
Some examples of vandalism covered by home insurance include:
Destruction of locks
Broken windows
Removal of trees
Spray-paint
Damaged lawns
Things to Consider
1. Your Car Is Not Covered
Unless you have comprehensive coverage on your vehicle's insurance policy, your car will not be covered. Whether it's parked in the garage or driveway, it's still considered a gray area for a homeowners insurance policy. Home insurance may cover the items within the car in the event of theft, but damage to the car itself will require car insurance. 
2. Unoccupied vs Vacant Homes
If an unoccupied home is insured, vandalism will be a covered peril. A home that is only periodically lived in will be considered unoccupied if nobody is currently dwelling within. A good example of this is vacation home or BNB.
A vacant home can be defined as a property that does not house any residents or personal possessions for a prolonged period. The biggest difference here is, vandalism usually isn't covered for homes that are considered vacant. This is because insurance companies view deserted properties as easy targets for malicious wrongdoing.
3. Operating a Business from the Home
If you run a business from inside the home, your homeowners insurance may not cover the costs of vandalism. This is another gray area that may require a second look at your policy.
Vandalized property in the home examined as inventory or equipment for business purposes may not be compensated unless otherwise stated in the policy. In cases where business property endorsement is not feasible under homeowners insurance, commercial insurance may be another option.
4. Arson
Among the various types of vandalism that can occur, arson is one of the most common. 26,608 arson incidences occurred in the US in 2021, and residences were the top locations targeted. This is also among the most expensive repairs and unfortunately will cause some problems when seeking an insurance claim.
After a fire, an investigation is performed which determines if it was caused by arson. In some cases, insurance companies may cover the losses if it can be proven that someone other than the owner or residents committed the crime. This, of course, can be very difficult to do.
How and When to Make a Claim
As a basic peril in a home insurance policy, insurance companies will reimburse a homeowner for the damages bestowed upon a property. This could come in the form of repairing, replacing or entirely rebuilding the destroyed property or home. 
If the damages incurred cost less than the insurance deductible, however, it may not be necessary or wise to submit a claim. Your deductible makes all the difference when filing an insurance claim.
Damages are paid after your deductible is taken out. For example, if your deductible is $1,000, and only your $1,500 shed was irrevocably damaged, home insurance will pay $500 for the total replacement.
If this shed were less than $1,000, it will be cheaper for you to replace it yourself. Filing too many insurance claims holds the risk of raising your insurance rates. As a result, excessive claims for these cheaper repairs will cost you more in the long run.
If your home incurs damages due to vandalism, this is what you should do:
File a police report.
Take thorough pictures and notes of the damage.
If the damages are costly or beyond your deductible, file a claim with your home insurance company. Gather all the photos, notes, and police reports, and have your policy ready. You can file a claim by calling or visiting your insurance company's website. They will be there to help you recover and get your property back in order.
In the meantime, make yourself as comfortable as possible. Board up the broken windows or doors, turn off power to damaged appliances, and save the receipts from any makeshift repairs you perform yourself.